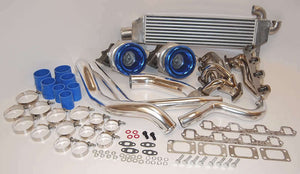 RxRaceParts "Strip Demon" Twin Turbo 5.0ltr "760hp" Package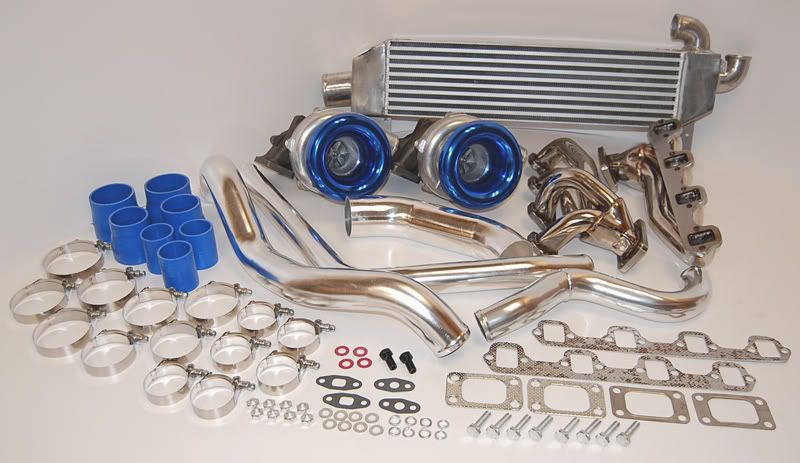 Packing List of Included Kit Items:

Brand new "street" twin turbo package for 260 289 302 351 5.0L Fords. An excellent starter twin turbo package available for limited time. This package has all new quality parts that is capable of producing well beyond 760 horsepower with supporting modifications. This is the most complete package available compared to others at an affordable price.

(2) Hybrid Turbo Charger:

.57 compressor wheel trim mapped for low & high boost setups
Oil fitting gaskets & mounting studs included
Capable of producing over 450 horsepower each

wet float bearings & properly balanced
3" inlet diameter with a 2" outlet
.50 A/R compressor housing
.63 A/R turbine housing
1/8 NPT oil inlet
T3/T4 hybrid

(2) Turbo Exhaust Manifolds:

High quality gaskets included for turbo and exhaust manifold
TIG welded 321 Stainless steel material for longevity and strength
Support brackets welded on help support the weight of the turbo
High quality tubular piping with large 1 5/8" primaries
Full install kit includes all bolts and hardware
Extra thick flanges support the turbos well
Beautifully polished for a show finish
High quality T3 turbocharger flange
Fully ported and polished design



(1) Twin Turbo Intercooler:

Large design cools down the turbocharged air efficiently
Strong TIG welds will support high PSI levels
Lightweight aluminum racing intercooler
Brackets create a easy bolt on design
3" cold outlet and 2.25" hot inlets



(1) Direct Fit Piping Kit:

Complete set of reinforced silicone couplers
High quality T-Bolt clamps included
Direct bolt on (not universal piping)
Lightweight aluminum piping

(2) Turbo Ram Inlet

Increases airflow into the turbo system
Replaces the filter for track performance
Acts as a Ram Air
Ultra lightweight and strong aluminum




Note:

These turbos have integral wastegate ports made into the turbine housing.  To install the external wastegates with these headers, you will need downpipes that have the wastegate flanges built into them   -OR-   you can consider the downpipes in our eBay store along with T3 to T3 cast adapters that have wastegate flanges built into them.

Fits the following vehicles with specified engine:

Engines: 260 289 302 351 351w

The piping is specific to 5.0ltr v8 Fox body Mustangs.  Fitment to something else is up to buyer.

Customers in the past have used this kit on dozens of combinations of stock or swapped v8 Fords.
This can work with fuel injected or carb.

PayPal is the preferred method of payment
Items are shipped every other day with FedEx or USPS
Please make payment within one business week
After that period, a unpaid item dispute will be filed

Auction shipping rate applies to the lower 48 states in the USA
Please contact me for shipping rates to Canada, PR, GU, VI, P.O. Box, FPO, APO, HI, & AK
Shipping to the rest of the world will be assessed with USPS express shipping rates
Local pickup is not available on this package

Dedication to Customer Service

Your 100% satisfaction is my goal and I will stand behind all the products that are sold from Eworld
Eworld is not happy until the customer is 100% satisfied
Please make sure that the part you ordered fits before altering or final installation
Altered items and custom orders are not refundable or returnable
Please inspect the parts immediately after receiving your order for any problems acquired during shipping
A exchange can be made if you receive the wrong or broken part(s)
Seller shall not be liable for any consequential or contingent damages, expense, or injury arising directly or indirectly from any defect in its products or from the use of any products, defective or otherwise
Due to manufacture supply, colors/styles may be slightly different then pictured
By bidding on this auction the bidder agrees to all terms