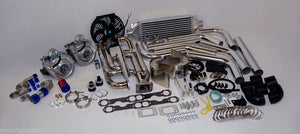 Compatible Vehicles
| Year | Make | Model | Trim | Engine |
| --- | --- | --- | --- | --- |
| 1997 | Pontiac | Trans Sport | Base Mini Passenger Van 3-Door | 3.4L 207Cu. In. V6 GAS OHV Naturally Aspirated |
| 1997 | Pontiac | Trans Sport | Base Mini Passenger Van 4-Door | 3.4L 207Cu. In. V6 GAS OHV Naturally Aspirated |
| 1996 | Chevrolet | Corvette | Base Convertible 2-Door | 5.7L 5733CC 350Cu. In. V8 GAS OHV Naturally Aspirated |
| 1996 | Chevrolet | Corvette | Base Coupe 2-Door | 5.7L 350Cu. In. V8 GAS OHV Naturally Aspirated |
| 1996 | Chevrolet | Corvette | Base Hatchback 2-Door | 5.7L 5733CC 350Cu. In. V8 GAS OHV Naturally Aspirated |
| 1996 | Chevrolet | Corvette | Collector's Edition Convertible 2-Door | 5.7L 5733CC 350Cu. In. V8 GAS OHV Naturally Aspirated |
| 1996 | Chevrolet | Corvette | Collector's Edition Hatchback 2-Door | 5.7L 5733CC 350Cu. In. V8 GAS OHV Naturally Aspirated |
| 1996 | Chevrolet | Corvette | Grand Sport Convertible 2-Door | 5.7L 5733CC 350Cu. In. V8 GAS OHV Naturally Aspirated |
| 1996 | Chevrolet | Corvette | Grand Sport Hatchback 2-Door | 5.7L 5733CC 350Cu. In. V8 GAS OHV Naturally Aspirated |
| 1996 | Pontiac | Trans Sport | Base Mini Passenger Van 3-Door | 3.4L 207Cu. In. V6 GAS OHV Naturally Aspirated |
| 1995 | Chevrolet | Corvette | Base Convertible 2-Door | 5.7L 350Cu. In. V8 GAS OHV Naturally Aspirated |
| 1995 | Chevrolet | Corvette | Base Coupe 2-Door | 5.7L 350Cu. In. V8 GAS OHV Naturally Aspirated |
| 1995 | Chevrolet | Corvette | Base Hatchback 2-Door | 5.7L 350Cu. In. V8 GAS OHV Naturally Aspirated |
| 1995 | Chevrolet | Corvette | Indianapolis 500 Pace Car Convertible 2-Door | 5.7L 350Cu. In. V8 GAS OHV Naturally Aspirated |
| 1995 | Chevrolet | Corvette | ZR-1 Hatchback 2-Door | 5.7L 350Cu. In. V8 GAS DOHC Naturally Aspirated |
| 1995 | Pontiac | Trans Sport | Base Mini Passenger Van 3-Door | 3.1L 189Cu. In. V6 GAS OHV Naturally Aspirated |
| 1995 | Pontiac | Trans Sport | Base Mini Passenger Van 3-Door | 3.8L 3800CC 231Cu. In. V6 GAS OHV Naturally Aspirated |
| 1994 | Chevrolet | Corvette | Base Convertible 2-Door | 5.7L 350Cu. In. V8 GAS OHV Naturally Aspirated |
| 1994 | Chevrolet | Corvette | Base Hatchback 2-Door | 5.7L 350Cu. In. V8 GAS OHV Naturally Aspirated |
| 1994 | Chevrolet | Corvette | ZR-1 Hatchback 2-Door | 5.7L 350Cu. In. V8 GAS DOHC Naturally Aspirated |
| 1994 | Pontiac | Trans Sport | Base Mini Cargo Van 3-Door | 3.1L 189Cu. In. V6 GAS OHV Naturally Aspirated |
| 1994 | Pontiac | Trans Sport | Base Mini Cargo Van 3-Door | 3.8L 3800CC 231Cu. In. V6 GAS OHV Naturally Aspirated |
| 1994 | Pontiac | Trans Sport | Base Mini Passenger Van 3-Door | 3.1L 189Cu. In. V6 GAS OHV Naturally Aspirated |
| 1994 | Pontiac | Trans Sport | Base Mini Passenger Van 3-Door | 3.8L 3800CC 231Cu. In. V6 GAS OHV Naturally Aspirated |
| 1993 | Chevrolet | Corvette | 40th Anniversary Edition Convertible 2-Door | 5.7L 350Cu. In. V8 GAS OHV Naturally Aspirated |
| 1993 | Chevrolet | Corvette | 40th Anniversary Edition Hatchback 2-Door | 5.7L 350Cu. In. V8 GAS OHV Naturally Aspirated |
| 1993 | Chevrolet | Corvette | Base Convertible 2-Door | 5.7L 350Cu. In. V8 GAS OHV Naturally Aspirated |
| 1993 | Chevrolet | Corvette | Base Hatchback 2-Door | 5.7L 350Cu. In. V8 GAS OHV Naturally Aspirated |
| 1993 | Chevrolet | Corvette | ZR-1 Hatchback 2-Door | 5.7L 350Cu. In. V8 GAS DOHC Naturally Aspirated |
| 1993 | Pontiac | Trans Sport | Base Mini Cargo Van 3-Door | 3.1L 189Cu. In. V6 GAS OHV Naturally Aspirated |
| 1993 | Pontiac | Trans Sport | Base Mini Cargo Van 3-Door | 3.8L 3800CC 231Cu. In. V6 GAS OHV Naturally Aspirated |
| 1993 | Pontiac | Trans Sport | Base Mini Passenger Van 3-Door | 3.1L 189Cu. In. V6 GAS OHV Naturally Aspirated |
| 1993 | Pontiac | Trans Sport | Base Mini Passenger Van 3-Door | 3.8L 3800CC 231Cu. In. V6 GAS OHV Naturally Aspirated |
| 1992 | Chevrolet | Corvette | Base Convertible 2-Door | 5.7L 350Cu. In. V8 GAS OHV Naturally Aspirated |
| 1992 | Chevrolet | Corvette | Base Hatchback 2-Door | 5.7L 350Cu. In. V8 GAS OHV Naturally Aspirated |
| 1992 | Chevrolet | Corvette | ZR-1 Hatchback 2-Door | 5.7L 350Cu. In. V8 GAS DOHC Naturally Aspirated |
| 1992 | Pontiac | Trans Sport | Base Mini Cargo Van 3-Door | 3.1L 189Cu. In. V6 GAS OHV Naturally Aspirated |
| 1992 | Pontiac | Trans Sport | Base Mini Cargo Van 3-Door | 3.8L 3800CC 231Cu. In. V6 GAS OHV Naturally Aspirated |
| 1992 | Pontiac | Trans Sport | Base Mini Passenger Van 3-Door | 3.1L 189Cu. In. V6 GAS OHV Naturally Aspirated |
| 1992 | Pontiac | Trans Sport | Base Mini Passenger Van 3-Door | 3.8L 3800CC 231Cu. In. V6 GAS OHV Naturally Aspirated |
| 1991 | Chevrolet | Corvette | Base Convertible 2-Door | 5.7L 350Cu. In. V8 GAS OHV Naturally Aspirated |
| 1991 | Chevrolet | Corvette | Base Hatchback 2-Door | 5.7L 350Cu. In. V8 GAS OHV Naturally Aspirated |
| 1991 | Chevrolet | Corvette | ZR-1 Hatchback 2-Door | 5.7L 350Cu. In. V8 GAS DOHC Naturally Aspirated |
| 1991 | Pontiac | Trans Sport | Base Mini Passenger Van 3-Door | 3.1L 189Cu. In. V6 GAS OHV Naturally Aspirated |
| 1990 | Chevrolet | Corvette | Base Convertible 2-Door | 5.7L 350Cu. In. V8 GAS OHV Naturally Aspirated |
| 1990 | Chevrolet | Corvette | Base Hatchback 2-Door | 5.7L 350Cu. In. V8 GAS OHV Naturally Aspirated |
| 1990 | Chevrolet | Corvette | ZR-1 Hatchback 2-Door | 5.7L 350Cu. In. V8 GAS DOHC Naturally Aspirated |
| 1990 | Pontiac | Trans Sport | Base Mini Passenger Van 3-Door | 3.1L 189Cu. In. V6 GAS OHV Naturally Aspirated |
| 1989 | Chevrolet | Corvette | Base Convertible 2-Door | 5.7L 350Cu. In. V8 GAS OHV Naturally Aspirated |
| 1989 | Chevrolet | Corvette | Base Hatchback 2-Door | 5.7L 350Cu. In. V8 GAS OHV Naturally Aspirated |
| 1988 | Chevrolet | Corvette | 35th Anniversary Edition Hatchback 2-Door | 5.7L 350Cu. In. V8 GAS OHV Naturally Aspirated |
| 1988 | Chevrolet | Corvette | Base Convertible 2-Door | 5.7L 350Cu. In. V8 GAS OHV Naturally Aspirated |
| 1988 | Chevrolet | Corvette | Base Hatchback 2-Door | 5.7L 350Cu. In. V8 GAS OHV Naturally Aspirated |
| 1987 | Chevrolet | Corvette | Base Convertible 2-Door | 5.7L 350Cu. In. V8 GAS OHV Naturally Aspirated |
| 1987 | Chevrolet | Corvette | Base Hatchback 2-Door | 5.7L 350Cu. In. V8 GAS OHV Naturally Aspirated |
| 1986 | Chevrolet | Corvette | Base Hatchback 2-Door | 5.7L 350Cu. In. V8 GAS OHV Naturally Aspirated |
| 1986 | Chevrolet | Corvette | Indianapolis 500 Pace Car Convertible 2-Door | 5.7L 350Cu. In. V8 GAS OHV Naturally Aspirated |
| 1985 | Chevrolet | Corvette | Base Hatchback 2-Door | 5.7L 350Cu. In. V8 GAS OHV Naturally Aspirated |
| 1985 | Chevrolet | Monte Carlo | Base Coupe 2-Door | 3.8L 3800CC 231Cu. In. V6 GAS OHV Naturally Aspirated |
| 1985 | Chevrolet | Monte Carlo | Base Coupe 2-Door | 4.3L 262Cu. In. V6 GAS OHV Naturally Aspirated |
| 1985 | Chevrolet | Monte Carlo | Base Coupe 2-Door | 5.0L 305Cu. In. V8 GAS OHV Naturally Aspirated |
| 1985 | Chevrolet | Monte Carlo | SS Coupe 2-Door | 5.0L 305Cu. In. V8 GAS OHV Naturally Aspirated |
| 1984 | Chevrolet | Corvette | Base Hatchback 2-Door | 5.7L 350Cu. In. V8 GAS OHV Naturally Aspirated |
| 1984 | Chevrolet | Monte Carlo | Base Coupe 2-Door | 3.8L 229Cu. In. V6 GAS OHV Naturally Aspirated |
| 1984 | Chevrolet | Monte Carlo | Base Coupe 2-Door | 3.8L 3800CC 231Cu. In. V6 GAS OHV Naturally Aspirated |
| 1984 | Chevrolet | Monte Carlo | Base Coupe 2-Door | 5.0L 305Cu. In. V8 GAS OHV Naturally Aspirated |
| 1984 | Chevrolet | Monte Carlo | Base Coupe 2-Door | 5.7L 350Cu. In. V8 DIESEL OHV Naturally Aspirated |
| 1984 | Chevrolet | Monte Carlo | Base Coupe 2-Door | 5.7L 350Cu. In. V8 GAS OHV Naturally Aspirated |
| 1984 | Chevrolet | Monte Carlo | SS Coupe 2-Door | 5.0L 305Cu. In. V8 GAS OHV Naturally Aspirated |
| 1983 | Chevrolet | Monte Carlo | Base Coupe 2-Door | 3.8L 229Cu. In. V6 GAS OHV Naturally Aspirated |
| 1983 | Chevrolet | Monte Carlo | Base Coupe 2-Door | 3.8L 3800CC 231Cu. In. V6 GAS OHV Naturally Aspirated |
| 1983 | Chevrolet | Monte Carlo | Base Coupe 2-Door | 4.3L 260Cu. In. V6 DIESEL OHV Naturally Aspirated |
| 1983 | Chevrolet | Monte Carlo | Base Coupe 2-Door | 5.0L 305Cu. In. V8 GAS OHV Naturally Aspirated |
| 1983 | Chevrolet | Monte Carlo | Base Coupe 2-Door | 5.7L 350Cu. In. V8 DIESEL OHV Naturally Aspirated |
| 1983 | Chevrolet | Monte Carlo | Base Coupe 2-Door | 5.7L 350Cu. In. V8 GAS OHV Naturally Aspirated |
| 1983 | Chevrolet | Monte Carlo | CL Coupe 2-Door | 3.8L 229Cu. In. V6 GAS OHV Naturally Aspirated |
| 1983 | Chevrolet | Monte Carlo | CL Coupe 2-Door | 3.8L 3800CC 231Cu. In. V6 GAS OHV Naturally Aspirated |
| 1983 | Chevrolet | Monte Carlo | CL Coupe 2-Door | 4.3L 260Cu. In. V6 DIESEL OHV Naturally Aspirated |
| 1983 | Chevrolet | Monte Carlo | CL Coupe 2-Door | 5.0L 305Cu. In. V8 GAS OHV Naturally Aspirated |
| 1983 | Chevrolet | Monte Carlo | CL Coupe 2-Door | 5.7L 350Cu. In. V8 DIESEL OHV Naturally Aspirated |
| 1983 | Chevrolet | Monte Carlo | SS Coupe 2-Door | 5.0L 305Cu. In. V8 GAS OHV Naturally Aspirated |
| 1983 | Chevrolet | Monte Carlo | SS Coupe 2-Door | 5.7L 350Cu. In. V8 DIESEL OHV Naturally Aspirated |
| 1982 | Chevrolet | Corvette | Base Coupe 2-Door | 5.7L 350Cu. In. V8 GAS OHV Naturally Aspirated |
| 1982 | Chevrolet | Corvette | Collector's Edition Hatchback 2-Door | 5.7L 350Cu. In. V8 GAS OHV Naturally Aspirated |
| 1982 | Chevrolet | Monte Carlo | Base Coupe 2-Door | 3.8L 229Cu. In. V6 GAS OHV Naturally Aspirated |
| 1982 | Chevrolet | Monte Carlo | Base Coupe 2-Door | 3.8L 3800CC 231Cu. In. V6 GAS OHV Naturally Aspirated |
| 1982 | Chevrolet | Monte Carlo | Base Coupe 2-Door | 4.3L 260Cu. In. V6 DIESEL OHV Naturally Aspirated |
| 1982 | Chevrolet | Monte Carlo | Base Coupe 2-Door | 4.4L 267Cu. In. V8 GAS OHV Naturally Aspirated |
| 1982 | Chevrolet | Monte Carlo | Base Coupe 2-Door | 5.0L 305Cu. In. V8 GAS OHV Naturally Aspirated |
| 1982 | Chevrolet | Monte Carlo | Base Coupe 2-Door | 5.7L 350Cu. In. V8 DIESEL OHV Naturally Aspirated |
| 1982 | Chevrolet | Monte Carlo | Base Coupe 2-Door | 5.7L 350Cu. In. V8 GAS OHV Naturally Aspirated |
| 1981 | Chevrolet | Corvette | Base Coupe 2-Door | 5.7L 350Cu. In. V8 GAS OHV Naturally Aspirated |
| 1981 | Chevrolet | Monte Carlo | Base Coupe 2-Door | 3.8L 229Cu. In. V6 GAS OHV Naturally Aspirated |
| 1981 | Chevrolet | Monte Carlo | Base Coupe 2-Door | 3.8L 3800CC 231Cu. In. V6 GAS OHV Naturally Aspirated |
| 1981 | Chevrolet | Monte Carlo | Base Coupe 2-Door | 3.8L 3800CC 231Cu. In. V6 GAS OHV Turbocharged |
| 1981 | Chevrolet | Monte Carlo | Base Coupe 2-Door | 4.4L 267Cu. In. V8 GAS OHV Naturally Aspirated |
| 1981 | Chevrolet | Monte Carlo | Base Coupe 2-Door | 5.0L 305Cu. In. V8 GAS OHV Naturally Aspirated |
| 1981 | Chevrolet | Monte Carlo | Base Coupe 2-Door | 5.7L 350Cu. In. V8 GAS OHV Naturally Aspirated |
| 1981 | Chevrolet | Monte Carlo | Landau Coupe 2-Door | 3.8L 229Cu. In. V6 GAS OHV Naturally Aspirated |
| 1981 | Chevrolet | Monte Carlo | Landau Coupe 2-Door | 3.8L 3800CC 231Cu. In. V6 GAS OHV Naturally Aspirated |
| 1981 | Chevrolet | Monte Carlo | Landau Coupe 2-Door | 3.8L 3800CC 231Cu. In. V6 GAS OHV Turbocharged |
| 1981 | Chevrolet | Monte Carlo | Landau Coupe 2-Door | 4.4L 267Cu. In. V8 GAS OHV Naturally Aspirated |
| 1981 | Chevrolet | Monte Carlo | Landau Coupe 2-Door | 5.0L 305Cu. In. V8 GAS OHV Naturally Aspirated |
| 1980 | Chevrolet | Corvette | Base Coupe 2-Door | 5.0L 305Cu. In. V8 GAS OHV Naturally Aspirated |
| 1980 | Chevrolet | Corvette | Base Coupe 2-Door | 5.7L 350Cu. In. V8 GAS OHV Naturally Aspirated |
| 1980 | Chevrolet | Monte Carlo | Landau Coupe 2-Door | 3.8L 229Cu. In. V6 GAS OHV Naturally Aspirated |
| 1980 | Chevrolet | Monte Carlo | Landau Coupe 2-Door | 3.8L 3800CC 231Cu. In. V6 GAS OHV Naturally Aspirated |
| 1980 | Chevrolet | Monte Carlo | Landau Coupe 2-Door | 3.8L 3800CC 231Cu. In. V6 GAS OHV Turbocharged |
| 1980 | Chevrolet | Monte Carlo | Landau Coupe 2-Door | 4.4L 267Cu. In. V8 GAS OHV Naturally Aspirated |
| 1980 | Chevrolet | Monte Carlo | Landau Coupe 2-Door | 5.0L 305Cu. In. V8 GAS OHV Naturally Aspirated |
| 1980 | Chevrolet | Monte Carlo | Sport Coupe 2-Door | 3.8L 229Cu. In. V6 GAS OHV Naturally Aspirated |
| 1980 | Chevrolet | Monte Carlo | Sport Coupe 2-Door | 3.8L 3800CC 231Cu. In. V6 GAS OHV Naturally Aspirated |
| 1980 | Chevrolet | Monte Carlo | Sport Coupe 2-Door | 3.8L 3800CC 231Cu. In. V6 GAS OHV Turbocharged |
| 1980 | Chevrolet | Monte Carlo | Sport Coupe 2-Door | 4.4L 267Cu. In. V8 GAS OHV Naturally Aspirated |
| 1980 | Chevrolet | Monte Carlo | Sport Coupe 2-Door | 5.0L 305Cu. In. V8 GAS OHV Naturally Aspirated |
| 1979 | Chevrolet | Corvette | Base Coupe 2-Door | 5.7L 350Cu. In. V8 GAS OHV Naturally Aspirated |
| 1979 | Chevrolet | Monte Carlo | Base Coupe 2-Door | 3.3L 200Cu. In. V6 GAS OHV Naturally Aspirated |
| 1979 | Chevrolet | Monte Carlo | Base Coupe 2-Door | 3.8L 231Cu. In. V6 GAS OHV Naturally Aspirated |
| 1979 | Chevrolet | Monte Carlo | Base Coupe 2-Door | 3.8L 3800CC 231Cu. In. V6 GAS OHV Naturally Aspirated |
| 1979 | Chevrolet | Monte Carlo | Base Coupe 2-Door | 4.4L 267Cu. In. V8 GAS OHV Naturally Aspirated |
| 1979 | Chevrolet | Monte Carlo | Base Coupe 2-Door | 5.0L 305Cu. In. V8 GAS OHV Naturally Aspirated |
| 1979 | Chevrolet | Monte Carlo | Landau Coupe 2-Door | 3.3L 200Cu. In. V6 GAS OHV Naturally Aspirated |
| 1979 | Chevrolet | Monte Carlo | Landau Coupe 2-Door | 3.8L 231Cu. In. V6 GAS OHV Naturally Aspirated |
| 1979 | Chevrolet | Monte Carlo | Landau Coupe 2-Door | 3.8L 3800CC 231Cu. In. V6 GAS OHV Naturally Aspirated |
| 1979 | Chevrolet | Monte Carlo | Landau Coupe 2-Door | 4.4L 267Cu. In. V8 GAS OHV Naturally Aspirated |
| 1979 | Chevrolet | Monte Carlo | Landau Coupe 2-Door | 5.0L 305Cu. In. V8 GAS OHV Naturally Aspirated |
| 1978 | Chevrolet | Corvette | Base Coupe 2-Door | 5.7L 350Cu. In. V8 GAS OHV Naturally Aspirated |
| 1978 | Chevrolet | Corvette | Indianapolis 500 Pace Car Coupe 2-Door | 5.7L 350Cu. In. V8 GAS OHV Naturally Aspirated |
| 1978 | Chevrolet | Corvette | Silver Anniversary Edition Coupe 2-Door | 5.7L 350Cu. In. V8 GAS OHV Naturally Aspirated |
| 1978 | Chevrolet | Monte Carlo | Landau Coupe 2-Door | 3.3L 200Cu. In. V6 GAS OHV Naturally Aspirated |
| 1978 | Chevrolet | Monte Carlo | Landau Coupe 2-Door | 3.8L 3800CC 231Cu. In. V6 GAS OHV Naturally Aspirated |
| 1978 | Chevrolet | Monte Carlo | Landau Coupe 2-Door | 5.0L 305Cu. In. V8 GAS OHV Naturally Aspirated |
| 1978 | Chevrolet | Monte Carlo | Sport Coupe 2-Door | 3.3L 200Cu. In. V6 GAS OHV Naturally Aspirated |
| 1978 | Chevrolet | Monte Carlo | Sport Coupe 2-Door | 3.8L 3800CC 231Cu. In. V6 GAS OHV Naturally Aspirated |
| 1978 | Chevrolet | Monte Carlo | Sport Coupe 2-Door | 5.0L 305Cu. In. V8 GAS OHV Naturally Aspirated |
| 1977 | Chevrolet | Corvette | Base Coupe 2-Door | 5.7L 350Cu. In. V8 GAS OHV Naturally Aspirated |
| 1977 | Chevrolet | Monte Carlo | S Coupe 2-Door | 5.0L 305Cu. In. V8 GAS OHV Naturally Aspirated |
| 1977 | Chevrolet | Monte Carlo | S Coupe 2-Door | 5.7L 350Cu. In. V8 GAS OHV Naturally Aspirated |
| 1976 | Chevrolet | Corvette | Stingray Coupe 2-Door | 5.7L 350Cu. In. V8 GAS OHV Naturally Aspirated |
| 1976 | Chevrolet | Monte Carlo | Landau Coupe 2-Door | 5.0L 305Cu. In. V8 GAS OHV Naturally Aspirated |
| 1976 | Chevrolet | Monte Carlo | Landau Coupe 2-Door | 5.7L 350Cu. In. V8 GAS OHV Naturally Aspirated |
| 1976 | Chevrolet | Monte Carlo | Landau Coupe 2-Door | 6.6L 400Cu. In. V8 GAS OHV Naturally Aspirated |
| 1976 | Chevrolet | Monte Carlo | S Coupe 2-Door | 5.0L 305Cu. In. V8 GAS OHV Naturally Aspirated |
| 1976 | Chevrolet | Monte Carlo | S Coupe 2-Door | 5.7L 350Cu. In. V8 GAS OHV Naturally Aspirated |
| 1976 | Chevrolet | Monte Carlo | S Coupe 2-Door | 6.6L 400Cu. In. V8 GAS OHV Naturally Aspirated |
| 1975 | Chevrolet | Corvette | Stingray Convertible 2-Door | 5.7L 350Cu. In. V8 GAS OHV Naturally Aspirated |
| 1975 | Chevrolet | Corvette | Stingray Coupe 2-Door | 5.7L 350Cu. In. V8 GAS OHV Naturally Aspirated |
| 1975 | Chevrolet | Monte Carlo | S Coupe 2-Door | 5.7L 350Cu. In. V8 GAS OHV Naturally Aspirated |
| 1975 | Chevrolet | Monte Carlo | S Coupe 2-Door | 6.6L 400Cu. In. V8 GAS OHV Naturally Aspirated |
| 1975 | Chevrolet | Monte Carlo | S Coupe 2-Door | 7.4L 454Cu. In. V8 GAS OHV Naturally Aspirated |
| 1974 | Chevrolet | Corvette | Base | 5.7L 350Cu. In. V8 GAS Naturally Aspirated |
| 1974 | Chevrolet | Corvette | Base | 5.7L 350Cu. In. V8 GAS OHV Naturally Aspirated |
| 1974 | Chevrolet | Corvette | Base | 5.7L 5737CC 350Cu. In. V8 GAS OHV Naturally Aspirated |
| 1974 | Chevrolet | Corvette | Base | 7.4L 454Cu. In. V8 GAS Naturally Aspirated |
| 1974 | Chevrolet | Corvette | Base | 7.4L 7439CC 454Cu. In. V8 GAS OHV Naturally Aspirated |
| 1974 | Chevrolet | Corvette | Base | 7.4L 7441CC 454Cu. In. V8 GAS OHV Naturally Aspirated |
| 1974 | Chevrolet | Corvette | Base Convertible 2-Door | 5.7L 350Cu. In. V8 GAS Naturally Aspirated |
| 1974 | Chevrolet | Corvette | Base Convertible 2-Door | 5.7L 350Cu. In. V8 GAS OHV Naturally Aspirated |
| 1974 | Chevrolet | Corvette | Base Convertible 2-Door | 5.7L 5737CC 350Cu. In. V8 GAS OHV Naturally Aspirated |
| 1974 | Chevrolet | Corvette | Base Convertible 2-Door | 7.4L 454Cu. In. V8 GAS Naturally Aspirated |
| 1974 | Chevrolet | Corvette | Base Convertible 2-Door | 7.4L 7439CC 454Cu. In. V8 GAS OHV Naturally Aspirated |
| 1974 | Chevrolet | Corvette | Base Convertible 2-Door | 7.4L 7441CC 454Cu. In. V8 GAS OHV Naturally Aspirated |
| 1974 | Chevrolet | Corvette | Base Coupe 2-Door | 5.7L 350Cu. In. V8 GAS Naturally Aspirated |
| 1974 | Chevrolet | Corvette | Base Coupe 2-Door | 5.7L 350Cu. In. V8 GAS OHV Naturally Aspirated |
| 1974 | Chevrolet | Corvette | Base Coupe 2-Door | 5.7L 5737CC 350Cu. In. V8 GAS OHV Naturally Aspirated |
| 1974 | Chevrolet | Corvette | Base Coupe 2-Door | 7.4L 454Cu. In. V8 GAS Naturally Aspirated |
| 1974 | Chevrolet | Corvette | Base Coupe 2-Door | 7.4L 7439CC 454Cu. In. V8 GAS OHV Naturally Aspirated |
| 1974 | Chevrolet | Corvette | Base Coupe 2-Door | 7.4L 7441CC 454Cu. In. V8 GAS OHV Naturally Aspirated |
| 1974 | Chevrolet | Monte Carlo | Base | 5.7L 350Cu. In. V8 GAS Naturally Aspirated |
| 1974 | Chevrolet | Monte Carlo | Base | 5.7L 350Cu. In. V8 GAS OHV Naturally Aspirated |
| 1974 | Chevrolet | Monte Carlo | Base | 5.7L 5737CC 350Cu. In. V8 GAS OHV Naturally Aspirated |
| 1974 | Chevrolet | Monte Carlo | Base | 6.6L 400Cu. In. V8 GAS Naturally Aspirated |
| 1974 | Chevrolet | Monte Carlo | Base | 6.6L 400Cu. In. V8 GAS OHV Naturally Aspirated |
| 1974 | Chevrolet | Monte Carlo | Base | 6.6L 6556CC 400Cu. In. V8 GAS OHV Naturally Aspirated |
| 1974 | Chevrolet | Monte Carlo | Base | 7.4L 454Cu. In. V8 GAS Naturally Aspirated |
| 1974 | Chevrolet | Monte Carlo | Base | 7.4L 7439CC 454Cu. In. V8 GAS OHV Naturally Aspirated |
| 1974 | Chevrolet | Monte Carlo | Base | 7.4L 7441CC 454Cu. In. V8 GAS OHV Naturally Aspirated |
| 1974 | Chevrolet | Monte Carlo | Base Coupe 2-Door | 5.7L 350Cu. In. V8 GAS Naturally Aspirated |
| 1974 | Chevrolet | Monte Carlo | Base Coupe 2-Door | 5.7L 350Cu. In. V8 GAS OHV Naturally Aspirated |
| 1974 | Chevrolet | Monte Carlo | Base Coupe 2-Door | 5.7L 5737CC 350Cu. In. V8 GAS OHV Naturally Aspirated |
| 1974 | Chevrolet | Monte Carlo | Base Coupe 2-Door | 6.6L 400Cu. In. V8 GAS Naturally Aspirated |
| 1974 | Chevrolet | Monte Carlo | Base Coupe 2-Door | 6.6L 400Cu. In. V8 GAS OHV Naturally Aspirated |
| 1974 | Chevrolet | Monte Carlo | Base Coupe 2-Door | 6.6L 6556CC 400Cu. In. V8 GAS OHV Naturally Aspirated |
| 1974 | Chevrolet | Monte Carlo | Base Coupe 2-Door | 7.4L 454Cu. In. V8 GAS Naturally Aspirated |
| 1974 | Chevrolet | Monte Carlo | Base Coupe 2-Door | 7.4L 7439CC 454Cu. In. V8 GAS OHV Naturally Aspirated |
| 1974 | Chevrolet | Monte Carlo | Base Coupe 2-Door | 7.4L 7441CC 454Cu. In. V8 GAS OHV Naturally Aspirated |
| 1974 | Chevrolet | Monte Carlo | Landau | 5.7L 350Cu. In. V8 GAS Naturally Aspirated |
| 1974 | Chevrolet | Monte Carlo | Landau | 5.7L 5737CC 350Cu. In. V8 GAS OHV Naturally Aspirated |
| 1974 | Chevrolet | Monte Carlo | Landau | 6.6L 400Cu. In. V8 GAS Naturally Aspirated |
| 1974 | Chevrolet | Monte Carlo | Landau | 6.6L 6556CC 400Cu. In. V8 GAS OHV Naturally Aspirated |
| 1974 | Chevrolet | Monte Carlo | Landau | 7.4L 454Cu. In. V8 GAS Naturally Aspirated |
| 1974 | Chevrolet | Monte Carlo | Landau | 7.4L 7441CC 454Cu. In. V8 GAS OHV Naturally Aspirated |
| 1973 | Chevrolet | Corvette | Base | 5.7L 350Cu. In. V8 GAS Naturally Aspirated |
| 1973 | Chevrolet | Corvette | Base | 5.7L 350Cu. In. V8 GAS OHV Naturally Aspirated |
| 1973 | Chevrolet | Corvette | Base | 7.4L 454Cu. In. V8 GAS Naturally Aspirated |
| 1973 | Chevrolet | Corvette | Base | 7.4L 7439CC 454Cu. In. V8 GAS OHV Naturally Aspirated |
| 1973 | Chevrolet | Corvette | Base | 7.4L 7441CC 454Cu. In. V8 GAS OHV Naturally Aspirated |
| 1973 | Chevrolet | Corvette | Base Convertible 2-Door | 5.7L 350Cu. In. V8 GAS Naturally Aspirated |
| 1973 | Chevrolet | Corvette | Base Convertible 2-Door | 5.7L 350Cu. In. V8 GAS OHV Naturally Aspirated |
| 1973 | Chevrolet | Corvette | Base Convertible 2-Door | 7.4L 454Cu. In. V8 GAS Naturally Aspirated |
| 1973 | Chevrolet | Corvette | Base Convertible 2-Door | 7.4L 7439CC 454Cu. In. V8 GAS OHV Naturally Aspirated |
| 1973 | Chevrolet | Corvette | Base Convertible 2-Door | 7.4L 7441CC 454Cu. In. V8 GAS OHV Naturally Aspirated |
| 1973 | Chevrolet | Corvette | Base Coupe 2-Door | 5.7L 350Cu. In. V8 GAS Naturally Aspirated |
| 1973 | Chevrolet | Corvette | Base Coupe 2-Door | 5.7L 350Cu. In. V8 GAS OHV Naturally Aspirated |
| 1973 | Chevrolet | Corvette | Base Coupe 2-Door | 7.4L 454Cu. In. V8 GAS Naturally Aspirated |
| 1973 | Chevrolet | Corvette | Base Coupe 2-Door | 7.4L 7439CC 454Cu. In. V8 GAS OHV Naturally Aspirated |
| 1973 | Chevrolet | Corvette | Base Coupe 2-Door | 7.4L 7441CC 454Cu. In. V8 GAS OHV Naturally Aspirated |
| 1973 | Chevrolet | Monte Carlo | Base | 5.7L 350Cu. In. V8 GAS Naturally Aspirated |
| 1973 | Chevrolet | Monte Carlo | Base | 5.7L 350Cu. In. V8 GAS OHV Naturally Aspirated |
| 1973 | Chevrolet | Monte Carlo | Base | 5.7L 5737CC 350Cu. In. V8 GAS OHV Naturally Aspirated |
| 1973 | Chevrolet | Monte Carlo | Base | 6.6L 400Cu. In. V8 GAS Naturally Aspirated |
| 1973 | Chevrolet | Monte Carlo | Base | 6.6L 400Cu. In. V8 GAS OHV Naturally Aspirated |
| 1973 | Chevrolet | Monte Carlo | Base | 6.6L 6556CC 400Cu. In. V8 GAS OHV Naturally Aspirated |
| 1973 | Chevrolet | Monte Carlo | Base | 7.4L 454Cu. In. V8 GAS Naturally Aspirated |
| 1973 | Chevrolet | Monte Carlo | Base | 7.4L 7439CC 454Cu. In. V8 GAS OHV Naturally Aspirated |
| 1973 | Chevrolet | Monte Carlo | Base | 7.4L 7441CC 454Cu. In. V8 GAS OHV Naturally Aspirated |
| 1973 | Chevrolet | Monte Carlo | Base Hardtop 2-Door | 5.7L 350Cu. In. V8 GAS Naturally Aspirated |
| 1973 | Chevrolet | Monte Carlo | Base Hardtop 2-Door | 5.7L 350Cu. In. V8 GAS OHV Naturally Aspirated |
| 1973 | Chevrolet | Monte Carlo | Base Hardtop 2-Door | 5.7L 5737CC 350Cu. In. V8 GAS OHV Naturally Aspirated |
| 1973 | Chevrolet | Monte Carlo | Base Hardtop 2-Door | 6.6L 400Cu. In. V8 GAS Naturally Aspirated |
| 1973 | Chevrolet | Monte Carlo | Base Hardtop 2-Door | 6.6L 400Cu. In. V8 GAS OHV Naturally Aspirated |
| 1973 | Chevrolet | Monte Carlo | Base Hardtop 2-Door | 6.6L 6556CC 400Cu. In. V8 GAS OHV Naturally Aspirated |
| 1973 | Chevrolet | Monte Carlo | Base Hardtop 2-Door | 7.4L 454Cu. In. V8 GAS Naturally Aspirated |
| 1973 | Chevrolet | Monte Carlo | Base Hardtop 2-Door | 7.4L 7439CC 454Cu. In. V8 GAS OHV Naturally Aspirated |
| 1973 | Chevrolet | Monte Carlo | Base Hardtop 2-Door | 7.4L 7441CC 454Cu. In. V8 GAS OHV Naturally Aspirated |
| 1973 | Chevrolet | Monte Carlo | Landau | 5.7L 350Cu. In. V8 GAS Naturally Aspirated |
| 1973 | Chevrolet | Monte Carlo | Landau | 5.7L 5737CC 350Cu. In. V8 GAS OHV Naturally Aspirated |
| 1973 | Chevrolet | Monte Carlo | Landau | 7.4L 454Cu. In. V8 GAS Naturally Aspirated |
| 1973 | Chevrolet | Monte Carlo | Landau | 7.4L 7441CC 454Cu. In. V8 GAS OHV Naturally Aspirated |
| 1973 | Chevrolet | Monte Carlo | S | 5.7L 350Cu. In. V8 GAS Naturally Aspirated |
| 1973 | Chevrolet | Monte Carlo | S | 5.7L 5737CC 350Cu. In. V8 GAS OHV Naturally Aspirated |
| 1973 | Chevrolet | Monte Carlo | S | 7.4L 454Cu. In. V8 GAS Naturally Aspirated |
| 1973 | Chevrolet | Monte Carlo | S | 7.4L 7441CC 454Cu. In. V8 GAS OHV Naturally Aspirated |
| 1973 | Pontiac | GTO | Base | 6.6L 400Cu. In. V8 GAS Naturally Aspirated |
| 1973 | Pontiac | GTO | Base | 6.6L 6555CC 400Cu. In. V8 GAS OHV Naturally Aspirated |
| 1973 | Pontiac | GTO | Base | 7.5L 455Cu. In. V8 GAS Naturally Aspirated |
| 1973 | Pontiac | GTO | Base | 7.5L 7456CC 455Cu. In. V8 GAS OHV Naturally Aspirated |
| 1973 | Pontiac | GTO | Base Hardtop 2-Door | 6.6L 400Cu. In. V8 GAS Naturally Aspirated |
| 1973 | Pontiac | GTO | Base Hardtop 2-Door | 6.6L 6555CC 400Cu. In. V8 GAS OHV Naturally Aspirated |
| 1973 | Pontiac | GTO | Base Hardtop 2-Door | 7.5L 455Cu. In. V8 GAS Naturally Aspirated |
| 1973 | Pontiac | GTO | Base Hardtop 2-Door | 7.5L 7456CC 455Cu. In. V8 GAS OHV Naturally Aspirated |
| 1972 | Chevrolet | Corvette | Base | 5.7L 350Cu. In. V8 GAS Naturally Aspirated |
| 1972 | Chevrolet | Corvette | Base | 5.7L 350Cu. In. V8 GAS OHV Naturally Aspirated |
| 1972 | Chevrolet | Corvette | Base | 5.7L 5737CC 350Cu. In. V8 GAS OHV Naturally Aspirated |
| 1972 | Chevrolet | Corvette | Base | 7.4L 454Cu. In. V8 GAS Naturally Aspirated |
| 1972 | Chevrolet | Corvette | Base | 7.4L 7439CC 454Cu. In. V8 GAS OHV Naturally Aspirated |
| 1972 | Chevrolet | Corvette | Base | 7.4L 7441CC 454Cu. In. V8 GAS OHV Naturally Aspirated |
| 1972 | Chevrolet | Corvette | Base Convertible 2-Door | 5.7L 350Cu. In. V8 GAS Naturally Aspirated |
| 1972 | Chevrolet | Corvette | Base Convertible 2-Door | 5.7L 350Cu. In. V8 GAS OHV Naturally Aspirated |
| 1972 | Chevrolet | Corvette | Base Convertible 2-Door | 5.7L 5737CC 350Cu. In. V8 GAS OHV Naturally Aspirated |
| 1972 | Chevrolet | Corvette | Base Convertible 2-Door | 7.4L 454Cu. In. V8 GAS Naturally Aspirated |
| 1972 | Chevrolet | Corvette | Base Convertible 2-Door | 7.4L 7439CC 454Cu. In. V8 GAS OHV Naturally Aspirated |
| 1972 | Chevrolet | Corvette | Base Convertible 2-Door | 7.4L 7441CC 454Cu. In. V8 GAS OHV Naturally Aspirated |
| 1972 | Chevrolet | Corvette | Base Coupe 2-Door | 5.7L 350Cu. In. V8 GAS Naturally Aspirated |
| 1972 | Chevrolet | Corvette | Base Coupe 2-Door | 5.7L 350Cu. In. V8 GAS OHV Naturally Aspirated |
| 1972 | Chevrolet | Corvette | Base Coupe 2-Door | 5.7L 5737CC 350Cu. In. V8 GAS OHV Naturally Aspirated |
| 1972 | Chevrolet | Corvette | Base Coupe 2-Door | 7.4L 454Cu. In. V8 GAS Naturally Aspirated |
| 1972 | Chevrolet | Corvette | Base Coupe 2-Door | 7.4L 7439CC 454Cu. In. V8 GAS OHV Naturally Aspirated |
| 1972 | Chevrolet | Corvette | Base Coupe 2-Door | 7.4L 7441CC 454Cu. In. V8 GAS OHV Naturally Aspirated |
| 1972 | Chevrolet | Monte Carlo | Base | 5.7L 350Cu. In. V8 GAS Naturally Aspirated |
| 1972 | Chevrolet | Monte Carlo | Base | 5.7L 350Cu. In. V8 GAS OHV Naturally Aspirated |
| 1972 | Chevrolet | Monte Carlo | Base | 5.7L 5737CC 350Cu. In. V8 GAS OHV Naturally Aspirated |
| 1972 | Chevrolet | Monte Carlo | Base | 6.6L 400Cu. In. V8 GAS Naturally Aspirated |
| 1972 | Chevrolet | Monte Carlo | Base | 6.6L 400Cu. In. V8 GAS OHV Naturally Aspirated |
| 1972 | Chevrolet | Monte Carlo | Base | 6.6L 6556CC 400Cu. In. V8 GAS OHV Naturally Aspirated |
| 1972 | Chevrolet | Monte Carlo | Base | 6.6L 6588CC 402Cu. In. V8 GAS Naturally Aspirated |
| 1972 | Chevrolet | Monte Carlo | Base | 6.6L 6588CC 402Cu. In. V8 GAS OHV Naturally Aspirated |
| 1972 | Chevrolet | Monte Carlo | Base | 7.4L 454Cu. In. V8 GAS Naturally Aspirated |
| 1972 | Chevrolet | Monte Carlo | Base | 7.4L 7439CC 454Cu. In. V8 GAS OHV Naturally Aspirated |
| 1972 | Chevrolet | Monte Carlo | Base | 7.4L 7441CC 454Cu. In. V8 GAS OHV Naturally Aspirated |
| 1972 | Chevrolet | Monte Carlo | Base Hardtop 2-Door | 5.7L 350Cu. In. V8 GAS Naturally Aspirated |
| 1972 | Chevrolet | Monte Carlo | Base Hardtop 2-Door | 5.7L 350Cu. In. V8 GAS OHV Naturally Aspirated |
| 1972 | Chevrolet | Monte Carlo | Base Hardtop 2-Door | 5.7L 5737CC 350Cu. In. V8 GAS OHV Naturally Aspirated |
| 1972 | Chevrolet | Monte Carlo | Base Hardtop 2-Door | 6.6L 400Cu. In. V8 GAS Naturally Aspirated |
| 1972 | Chevrolet | Monte Carlo | Base Hardtop 2-Door | 6.6L 400Cu. In. V8 GAS OHV Naturally Aspirated |
| 1972 | Chevrolet | Monte Carlo | Base Hardtop 2-Door | 6.6L 6556CC 400Cu. In. V8 GAS OHV Naturally Aspirated |
| 1972 | Chevrolet | Monte Carlo | Base Hardtop 2-Door | 6.6L 6588CC 402Cu. In. V8 GAS Naturally Aspirated |
| 1972 | Chevrolet | Monte Carlo | Base Hardtop 2-Door | 6.6L 6588CC 402Cu. In. V8 GAS OHV Naturally Aspirated |
| 1972 | Chevrolet | Monte Carlo | Base Hardtop 2-Door | 7.4L 454Cu. In. V8 GAS Naturally Aspirated |
| 1972 | Chevrolet | Monte Carlo | Base Hardtop 2-Door | 7.4L 7439CC 454Cu. In. V8 GAS OHV Naturally Aspirated |
| 1972 | Chevrolet | Monte Carlo | Base Hardtop 2-Door | 7.4L 7441CC 454Cu. In. V8 GAS OHV Naturally Aspirated |
| 1972 | Pontiac | GTO | Base | 6.6L 400Cu. In. V8 GAS Naturally Aspirated |
| 1972 | Pontiac | GTO | Base | 6.6L 6555CC 400Cu. In. V8 GAS OHV Naturally Aspirated |
| 1972 | Pontiac | GTO | Base | 7.5L 455Cu. In. V8 GAS Naturally Aspirated |
| 1972 | Pontiac | GTO | Base | 7.5L 7456CC 455Cu. In. V8 GAS OHV Naturally Aspirated |
| 1971 | Chevrolet | Corvette | Base | 5.7L 350Cu. In. V8 GAS Naturally Aspirated |
| 1971 | Chevrolet | Corvette | Base | 5.7L 350Cu. In. V8 GAS OHV Naturally Aspirated |
| 1971 | Chevrolet | Corvette | Base | 7.4L 454Cu. In. V8 GAS Naturally Aspirated |
| 1971 | Chevrolet | Corvette | Base | 7.4L 7439CC 454Cu. In. V8 GAS OHV Naturally Aspirated |
| 1971 | Chevrolet | Corvette | Base | 7.4L 7441CC 454Cu. In. V8 GAS OHV Naturally Aspirated |
| 1971 | Chevrolet | Corvette | Base Convertible 2-Door | 5.7L 350Cu. In. V8 GAS Naturally Aspirated |
| 1971 | Chevrolet | Corvette | Base Convertible 2-Door | 5.7L 350Cu. In. V8 GAS OHV Naturally Aspirated |
| 1971 | Chevrolet | Corvette | Base Convertible 2-Door | 7.4L 454Cu. In. V8 GAS Naturally Aspirated |
| 1971 | Chevrolet | Corvette | Base Convertible 2-Door | 7.4L 7439CC 454Cu. In. V8 GAS OHV Naturally Aspirated |
| 1971 | Chevrolet | Corvette | Base Convertible 2-Door | 7.4L 7441CC 454Cu. In. V8 GAS OHV Naturally Aspirated |
| 1971 | Chevrolet | Corvette | Base Coupe 2-Door | 5.7L 350Cu. In. V8 GAS Naturally Aspirated |
| 1971 | Chevrolet | Corvette | Base Coupe 2-Door | 5.7L 350Cu. In. V8 GAS OHV Naturally Aspirated |
| 1971 | Chevrolet | Corvette | Base Coupe 2-Door | 7.4L 454Cu. In. V8 GAS Naturally Aspirated |
| 1971 | Chevrolet | Corvette | Base Coupe 2-Door | 7.4L 7439CC 454Cu. In. V8 GAS OHV Naturally Aspirated |
| 1971 | Chevrolet | Corvette | Base Coupe 2-Door | 7.4L 7441CC 454Cu. In. V8 GAS OHV Naturally Aspirated |
| 1971 | Chevrolet | Monte Carlo | Base | 5.7L 350Cu. In. V8 GAS Naturally Aspirated |
| 1971 | Chevrolet | Monte Carlo | Base | 5.7L 350Cu. In. V8 GAS OHV Naturally Aspirated |
| 1971 | Chevrolet | Monte Carlo | Base | 6.6L 400Cu. In. V8 GAS Naturally Aspirated |
| 1971 | Chevrolet | Monte Carlo | Base | 6.6L 400Cu. In. V8 GAS OHV Naturally Aspirated |
| 1971 | Chevrolet | Monte Carlo | Base | 6.6L 6556CC 400Cu. In. V8 GAS OHV Naturally Aspirated |
| 1971 | Chevrolet | Monte Carlo | Base | 6.6L 6588CC 402Cu. In. V8 GAS Naturally Aspirated |
| 1971 | Chevrolet | Monte Carlo | Base | 6.6L 6588CC 402Cu. In. V8 GAS OHV Naturally Aspirated |
| 1971 | Chevrolet | Monte Carlo | Base | 7.4L 454Cu. In. V8 GAS Naturally Aspirated |
| 1971 | Chevrolet | Monte Carlo | Base | 7.4L 7439CC 454Cu. In. V8 GAS OHV Naturally Aspirated |
| 1971 | Chevrolet | Monte Carlo | Base | 7.4L 7441CC 454Cu. In. V8 GAS OHV Naturally Aspirated |
| 1971 | Chevrolet | Monte Carlo | Base Hardtop 2-Door | 5.7L 350Cu. In. V8 GAS Naturally Aspirated |
| 1971 | Chevrolet | Monte Carlo | Base Hardtop 2-Door | 5.7L 350Cu. In. V8 GAS OHV Naturally Aspirated |
| 1971 | Chevrolet | Monte Carlo | Base Hardtop 2-Door | 6.6L 400Cu. In. V8 GAS Naturally Aspirated |
| 1971 | Chevrolet | Monte Carlo | Base Hardtop 2-Door | 6.6L 400Cu. In. V8 GAS OHV Naturally Aspirated |
| 1971 | Chevrolet | Monte Carlo | Base Hardtop 2-Door | 6.6L 6556CC 400Cu. In. V8 GAS OHV Naturally Aspirated |
| 1971 | Chevrolet | Monte Carlo | Base Hardtop 2-Door | 6.6L 6588CC 402Cu. In. V8 GAS Naturally Aspirated |
| 1971 | Chevrolet | Monte Carlo | Base Hardtop 2-Door | 6.6L 6588CC 402Cu. In. V8 GAS OHV Naturally Aspirated |
| 1971 | Chevrolet | Monte Carlo | Base Hardtop 2-Door | 7.4L 454Cu. In. V8 GAS Naturally Aspirated |
| 1971 | Chevrolet | Monte Carlo | Base Hardtop 2-Door | 7.4L 7439CC 454Cu. In. V8 GAS OHV Naturally Aspirated |
| 1971 | Chevrolet | Monte Carlo | Base Hardtop 2-Door | 7.4L 7441CC 454Cu. In. V8 GAS OHV Naturally Aspirated |
| 1971 | Pontiac | GTO | Base | 6.6L 400Cu. In. V8 GAS Naturally Aspirated |
| 1971 | Pontiac | GTO | Base | 6.6L 6555CC 400Cu. In. V8 GAS OHV Naturally Aspirated |
| 1971 | Pontiac | GTO | Base | 7.5L 455Cu. In. V8 GAS Naturally Aspirated |
| 1971 | Pontiac | GTO | Base | 7.5L 7456CC 455Cu. In. V8 GAS OHV Naturally Aspirated |
| 1971 | Pontiac | GTO | The Judge | 7.5L 455Cu. In. V8 GAS Naturally Aspirated |
| 1970 | Chevrolet | Corvette | Base | 5.7L 350Cu. In. V8 GAS Naturally Aspirated |
| 1970 | Chevrolet | Corvette | Base | 5.7L 350Cu. In. V8 GAS OHV Naturally Aspirated |
| 1970 | Chevrolet | Corvette | Base | 7.4L 454Cu. In. V8 GAS Naturally Aspirated |
| 1970 | Chevrolet | Corvette | Base | 7.4L 7439CC 454Cu. In. V8 GAS OHV Naturally Aspirated |
| 1970 | Chevrolet | Corvette | Base | 7.4L 7441CC 454Cu. In. V8 GAS OHV Naturally Aspirated |
| 1970 | Chevrolet | Corvette | Base Convertible 2-Door | 5.7L 350Cu. In. V8 GAS Naturally Aspirated |
| 1970 | Chevrolet | Corvette | Base Convertible 2-Door | 5.7L 350Cu. In. V8 GAS OHV Naturally Aspirated |
| 1970 | Chevrolet | Corvette | Base Convertible 2-Door | 7.4L 454Cu. In. V8 GAS Naturally Aspirated |
| 1970 | Chevrolet | Corvette | Base Convertible 2-Door | 7.4L 7439CC 454Cu. In. V8 GAS OHV Naturally Aspirated |
| 1970 | Chevrolet | Corvette | Base Convertible 2-Door | 7.4L 7441CC 454Cu. In. V8 GAS OHV Naturally Aspirated |
| 1970 | Chevrolet | Corvette | Base Coupe 2-Door | 5.7L 350Cu. In. V8 GAS Naturally Aspirated |
| 1970 | Chevrolet | Corvette | Base Coupe 2-Door | 5.7L 350Cu. In. V8 GAS OHV Naturally Aspirated |
| 1970 | Chevrolet | Corvette | Base Coupe 2-Door | 7.4L 454Cu. In. V8 GAS Naturally Aspirated |
| 1970 | Chevrolet | Corvette | Base Coupe 2-Door | 7.4L 7439CC 454Cu. In. V8 GAS OHV Naturally Aspirated |
| 1970 | Chevrolet | Corvette | Base Coupe 2-Door | 7.4L 7441CC 454Cu. In. V8 GAS OHV Naturally Aspirated |
| 1970 | Chevrolet | Monte Carlo | Base | 5.7L 350Cu. In. V8 GAS Naturally Aspirated |
| 1970 | Chevrolet | Monte Carlo | Base | 5.7L 350Cu. In. V8 GAS OHV Naturally Aspirated |
| 1970 | Chevrolet | Monte Carlo | Base | 6.6L 400Cu. In. V8 GAS Naturally Aspirated |
| 1970 | Chevrolet | Monte Carlo | Base | 6.6L 400Cu. In. V8 GAS OHV Naturally Aspirated |
| 1970 | Chevrolet | Monte Carlo | Base | 6.6L 6556CC 400Cu. In. V8 GAS OHV Naturally Aspirated |
| 1970 | Chevrolet | Monte Carlo | Base | 6.6L 6588CC 402Cu. In. V8 GAS Naturally Aspirated |
| 1970 | Chevrolet | Monte Carlo | Base | 6.6L 6588CC 402Cu. In. V8 GAS OHV Naturally Aspirated |
| 1970 | Chevrolet | Monte Carlo | Base | 7.4L 454Cu. In. V8 GAS Naturally Aspirated |
| 1970 | Chevrolet | Monte Carlo | Base | 7.4L 7439CC 454Cu. In. V8 GAS OHV Naturally Aspirated |
| 1970 | Chevrolet | Monte Carlo | Base | 7.4L 7441CC 454Cu. In. V8 GAS OHV Naturally Aspirated |
| 1970 | Chevrolet | Monte Carlo | Base Hardtop 2-Door | 5.7L 350Cu. In. V8 GAS Naturally Aspirated |
| 1970 | Chevrolet | Monte Carlo | Base Hardtop 2-Door | 5.7L 350Cu. In. V8 GAS OHV Naturally Aspirated |
| 1970 | Chevrolet | Monte Carlo | Base Hardtop 2-Door | 6.6L 400Cu. In. V8 GAS Naturally Aspirated |
| 1970 | Chevrolet | Monte Carlo | Base Hardtop 2-Door | 6.6L 400Cu. In. V8 GAS OHV Naturally Aspirated |
| 1970 | Chevrolet | Monte Carlo | Base Hardtop 2-Door | 6.6L 6556CC 400Cu. In. V8 GAS OHV Naturally Aspirated |
| 1970 | Chevrolet | Monte Carlo | Base Hardtop 2-Door | 6.6L 6588CC 402Cu. In. V8 GAS Naturally Aspirated |
| 1970 | Chevrolet | Monte Carlo | Base Hardtop 2-Door | 6.6L 6588CC 402Cu. In. V8 GAS OHV Naturally Aspirated |
| 1970 | Chevrolet | Monte Carlo | Base Hardtop 2-Door | 7.4L 454Cu. In. V8 GAS Naturally Aspirated |
| 1970 | Chevrolet | Monte Carlo | Base Hardtop 2-Door | 7.4L 7439CC 454Cu. In. V8 GAS OHV Naturally Aspirated |
| 1970 | Chevrolet | Monte Carlo | Base Hardtop 2-Door | 7.4L 7441CC 454Cu. In. V8 GAS OHV Naturally Aspirated |
| 1970 | Pontiac | GTO | Base | 6.6L 400Cu. In. V8 GAS Naturally Aspirated |
| 1970 | Pontiac | GTO | Base | 6.6L 6555CC 400Cu. In. V8 GAS OHV Naturally Aspirated |
| 1970 | Pontiac | GTO | Base | 7.5L 455Cu. In. V8 GAS Naturally Aspirated |
| 1970 | Pontiac | GTO | Base | 7.5L 7456CC 455Cu. In. V8 GAS OHV Naturally Aspirated |
| 1970 | Pontiac | GTO | The Judge | 6.6L 400Cu. In. V8 GAS Naturally Aspirated |
| 1970 | Pontiac | GTO | The Judge | 7.5L 455Cu. In. V8 GAS Naturally Aspirated |
| 1969 | Chevrolet | Corvette | Base | 5.7L 350Cu. In. V8 GAS Naturally Aspirated |
| 1969 | Chevrolet | Corvette | Base | 5.7L 350Cu. In. V8 GAS OHV Naturally Aspirated |
| 1969 | Chevrolet | Corvette | Base | 7.0L 427Cu. In. V8 GAS Naturally Aspirated |
| 1969 | Chevrolet | Corvette | Base | 7.0L 6998CC 427Cu. In. V8 GAS OHV Naturally Aspirated |
| 1969 | Chevrolet | Corvette | Base Convertible 2-Door | 5.7L 350Cu. In. V8 GAS Naturally Aspirated |
| 1969 | Chevrolet | Corvette | Base Convertible 2-Door | 5.7L 350Cu. In. V8 GAS OHV Naturally Aspirated |
| 1969 | Chevrolet | Corvette | Base Convertible 2-Door | 7.0L 427Cu. In. V8 GAS Naturally Aspirated |
| 1969 | Chevrolet | Corvette | Base Convertible 2-Door | 7.0L 6998CC 427Cu. In. V8 GAS OHV Naturally Aspirated |
| 1969 | Chevrolet | Corvette | Base Coupe 2-Door | 5.7L 350Cu. In. V8 GAS Naturally Aspirated |
| 1969 | Chevrolet | Corvette | Base Coupe 2-Door | 5.7L 350Cu. In. V8 GAS OHV Naturally Aspirated |
| 1969 | Chevrolet | Corvette | Base Coupe 2-Door | 7.0L 427Cu. In. V8 GAS Naturally Aspirated |
| 1969 | Chevrolet | Corvette | Base Coupe 2-Door | 7.0L 6998CC 427Cu. In. V8 GAS OHV Naturally Aspirated |
| 1969 | Pontiac | GTO | Base | 6.6L 400Cu. In. V8 GAS Naturally Aspirated |
| 1969 | Pontiac | GTO | Base | 6.6L 6555CC 400Cu. In. V8 GAS OHV Naturally Aspirated |
| 1968 | Chevrolet | Corvette | Base | 5.3L 5358CC 327Cu. In. V8 GAS OHV Naturally Aspirated |
| 1968 | Chevrolet | Corvette | Base | 5.4L 327Cu. In. V8 GAS Naturally Aspirated |
| 1968 | Chevrolet | Corvette | Base | 7.0L 427Cu. In. V8 GAS Naturally Aspirated |
| 1968 | Chevrolet | Corvette | Base | 7.0L 6998CC 427Cu. In. V8 GAS OHV Naturally Aspirated |
| 1968 | Chevrolet | Corvette | Base Convertible 2-Door | 5.3L 5358CC 327Cu. In. V8 GAS OHV Naturally Aspirated |
| 1968 | Chevrolet | Corvette | Base Convertible 2-Door | 5.4L 327Cu. In. V8 GAS Naturally Aspirated |
| 1968 | Chevrolet | Corvette | Base Convertible 2-Door | 7.0L 427Cu. In. V8 GAS Naturally Aspirated |
| 1968 | Chevrolet | Corvette | Base Convertible 2-Door | 7.0L 6998CC 427Cu. In. V8 GAS OHV Naturally Aspirated |
| 1968 | Chevrolet | Corvette | Base Coupe 2-Door | 5.3L 5358CC 327Cu. In. V8 GAS OHV Naturally Aspirated |
| 1968 | Chevrolet | Corvette | Base Coupe 2-Door | 5.4L 327Cu. In. V8 GAS Naturally Aspirated |
| 1968 | Chevrolet | Corvette | Base Coupe 2-Door | 7.0L 427Cu. In. V8 GAS Naturally Aspirated |
| 1968 | Chevrolet | Corvette | Base Coupe 2-Door | 7.0L 6998CC 427Cu. In. V8 GAS OHV Naturally Aspirated |
| 1968 | Pontiac | GTO | Base | 6.6L 400Cu. In. V8 GAS Naturally Aspirated |
| 1968 | Pontiac | GTO | Base | 6.6L 6555CC 400Cu. In. V8 GAS OHV Naturally Aspirated |
| 1967 | Chevrolet | Corvette | Base | 5.3L 5358CC 327Cu. In. V8 GAS OHV Naturally Aspirated |
| 1967 | Chevrolet | Corvette | Base | 7.0L 6998CC 427Cu. In. V8 GAS OHV Naturally Aspirated |
| 1967 | Chevrolet | Corvette | Base Convertible 2-Door | 5.3L 5358CC 327Cu. In. V8 GAS OHV Naturally Aspirated |
| 1967 | Chevrolet | Corvette | Base Convertible 2-Door | 7.0L 6998CC 427Cu. In. V8 GAS OHV Naturally Aspirated |
| 1967 | Chevrolet | Corvette | Base Coupe 2-Door | 5.3L 5358CC 327Cu. In. V8 GAS OHV Naturally Aspirated |
| 1967 | Chevrolet | Corvette | Base Coupe 2-Door | 7.0L 6998CC 427Cu. In. V8 GAS OHV Naturally Aspirated |
| 1967 | Pontiac | GTO | Base | 6.6L 400Cu. In. V8 GAS Naturally Aspirated |
| 1967 | Pontiac | GTO | Base | 6.6L 6555CC 400Cu. In. V8 GAS OHV Naturally Aspirated |
| 1966 | Chevrolet | Corvette | Base | 5.3L 5358CC 327Cu. In. V8 GAS OHV Naturally Aspirated |
| 1966 | Chevrolet | Corvette | Base | 7.0L 6998CC 427Cu. In. V8 GAS OHV Naturally Aspirated |
| 1966 | Chevrolet | Corvette | Base Convertible 2-Door | 5.3L 5358CC 327Cu. In. V8 GAS OHV Naturally Aspirated |
| 1966 | Chevrolet | Corvette | Base Convertible 2-Door | 7.0L 6998CC 427Cu. In. V8 GAS OHV Naturally Aspirated |
| 1966 | Chevrolet | Corvette | Base Coupe 2-Door | 5.3L 5358CC 327Cu. In. V8 GAS OHV Naturally Aspirated |
| 1966 | Chevrolet | Corvette | Base Coupe 2-Door | 7.0L 6998CC 427Cu. In. V8 GAS OHV Naturally Aspirated |
| 1966 | Pontiac | GTO | Base | 6.4L 6376CC 389Cu. In. V8 GAS OHV Naturally Aspirated |
| 1965 | Chevrolet | Corvette | Base | 5.3L 5358CC 327Cu. In. V8 GAS OHV Naturally Aspirated |
| 1965 | Chevrolet | Corvette | Base | 6.5L 6489CC 396Cu. In. V8 GAS OHV Naturally Aspirated |
| 1965 | Chevrolet | Corvette | Base Convertible 2-Door | 5.3L 5358CC 327Cu. In. V8 GAS OHV Naturally Aspirated |
| 1965 | Chevrolet | Corvette | Base Convertible 2-Door | 6.5L 6489CC 396Cu. In. V8 GAS OHV Naturally Aspirated |
| 1965 | Chevrolet | Corvette | Base Coupe 2-Door | 5.3L 5358CC 327Cu. In. V8 GAS OHV Naturally Aspirated |
| 1965 | Chevrolet | Corvette | Base Coupe 2-Door | 6.5L 6489CC 396Cu. In. V8 GAS OHV Naturally Aspirated |
| 1965 | Pontiac | GTO | Base | 6.4L 6376CC 389Cu. In. V8 GAS OHV Naturally Aspirated |
| 1964 | Chevrolet | Corvette | Base Convertible 2-Door | 5.3L 5358CC 327Cu. In. V8 GAS OHV Naturally Aspirated |
| 1964 | Chevrolet | Corvette | Base Coupe 2-Door | 5.3L 5358CC 327Cu. In. V8 GAS OHV Naturally Aspirated |
| 1964 | Pontiac | GTO | Base | 6.4L 6376CC 389Cu. In. V8 GAS OHV Naturally Aspirated |
| 1963 | Chevrolet | Corvette | Base | 5.3L 5358CC 327Cu. In. V8 GAS OHV Naturally Aspirated |
| 1963 | Chevrolet | Corvette | Base Convertible 2-Door | 5.3L 5358CC 327Cu. In. V8 GAS OHV Naturally Aspirated |
| 1963 | Chevrolet | Corvette | Base Coupe 2-Door | 5.3L 5358CC 327Cu. In. V8 GAS OHV Naturally Aspirated |
| 1962 | Chevrolet | Corvette | Base | 5.3L 5358CC 327Cu. In. V8 GAS OHV Naturally Aspirated |
| 1962 | Chevrolet | Corvette | Base Convertible 2-Door | 5.3L 5358CC 327Cu. In. V8 GAS OHV Naturally Aspirated |
| 1961 | Chevrolet | Corvette | Base | 4.6L 4638CC 283Cu. In. V8 GAS OHV Naturally Aspirated |
| 1961 | Chevrolet | Corvette | Base Convertible 2-Door | 4.6L 4638CC 283Cu. In. V8 GAS OHV Naturally Aspirated |
| 1960 | Chevrolet | Corvette | Base | 4.6L 4638CC 283Cu. In. V8 GAS OHV Naturally Aspirated |
| 1960 | Chevrolet | Corvette | Base Convertible 2-Door | 4.6L 4638CC 283Cu. In. V8 GAS OHV Naturally Aspirated |
| 1959 | Chevrolet | Corvette | Base | 4.6L 4638CC 283Cu. In. V8 GAS OHV Naturally Aspirated |
| 1959 | Chevrolet | Corvette | Base Convertible 2-Door | 4.6L 4638CC 283Cu. In. V8 GAS OHV Naturally Aspirated |
| 1958 | Chevrolet | Corvette | Base | 4.6L 4638CC 283Cu. In. V8 GAS OHV Naturally Aspirated |
| 1958 | Chevrolet | Corvette | Base Convertible 2-Door | 4.6L 4638CC 283Cu. In. V8 GAS OHV Naturally Aspirated |
| 1957 | Chevrolet | Corvette | Base | 4.6L 4638CC 283Cu. In. V8 GAS OHV Naturally Aspirated |
| 1957 | Chevrolet | Corvette | Base Convertible 2-Door | 4.6L 4638CC 283Cu. In. V8 GAS OHV Naturally Aspirated |
| 1956 | Chevrolet | Corvette | Base | 4.3L 4343CC 265Cu. In. V8 GAS OHV Naturally Aspirated |
| 1956 | Chevrolet | Corvette | Base Convertible 2-Door | 4.3L 4343CC 265Cu. In. V8 GAS OHV Naturally Aspirated |
| 1955 | Chevrolet | Corvette | Base | 3.8L 3852CC 235Cu. In. l6 GAS OHV Naturally Aspirated |
| 1955 | Chevrolet | Corvette | Base | 4.3L 4343CC 265Cu. In. V8 GAS OHV Naturally Aspirated |
| 1955 | Chevrolet | Corvette | Base Convertible 2-Door | 3.8L 3852CC 235Cu. In. l6 GAS OHV Naturally Aspirated |
| 1955 | Chevrolet | Corvette | Base Convertible 2-Door | 4.3L 4343CC 265Cu. In. V8 GAS OHV Naturally Aspirated |
| 1954 | Chevrolet | Corvette | Base | 3.8L 3852CC 235Cu. In. l6 GAS OHV Naturally Aspirated |
| 1954 | Chevrolet | Corvette | Base Convertible 2-Door | 3.8L 3852CC 235Cu. In. l6 GAS OHV Naturally Aspirated |
| 1953 | Chevrolet | Corvette | Base | 3.8L 3852CC 235Cu. In. l6 GAS OHV Naturally Aspirated |
| 1953 | Chevrolet | Corvette | Base | 3.9L 236Cu. In. l6 GAS Naturally Aspirated |
| 1953 | Chevrolet | Corvette | Base Convertible 2-Door | 3.8L 3852CC 235Cu. In. l6 GAS OHV Naturally Aspirated |
| 1953 | Chevrolet | Corvette | Base Convertible 2-Door | 3.9L 236Cu. In. l6 GAS Naturally Aspirated |
Rx 1982 - 1992 Chevy Camaro & Pontiac Trans Am "Street Demon" Twin Turbo "750hp F-body" Package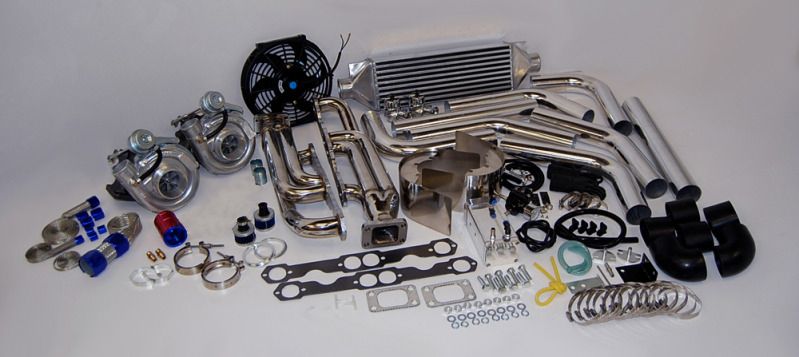 Packing List of Included Kit Items:

Brand new "street" twin turbo package for 1982 - 1992 Chevy Camaro & Pontiac Trans Am. The most complete twin turbo package available for F-Bodies at this price. This package has all new quality parts that is capable of producing well beyond 750 horsepower with supporting modifications. This is the most complete package available compared to others at an affordable price.

Includes a cooling solution for a hot turbocharged engine featuring a high flow-cooling fan. On a stock motor the kit will add amazing horsepower on a low boost setting of 8-10 PSI.

(2) Hybrid Turbo Charger:

.57 compressor wheel trim mapped for low & high boost setups
Oil fitting gaskets & mounting studs included
Capable of producing over 450 horsepower
wet float bearings & properly balanced
3" inlet diameter with a 2" outlet
.50 A/R compressor housing
.63 A/R turbine housing
1/8 NPT oil inlet
T3/T4 hybrid
Internal wastegate starting at 8psi.


(2) Turbo Exhaust Manifolds:

High quality gaskets included for turbo flanges and exhaust manifold flanges
TIG welded 321 Stainless steel material for longevity and strength
Support brackets welded on help support the weight of the turbo
High quality tubular piping with large 1 5/8" primaries
Full install kit includes all bolts and hardware
Extra thick flanges support the turbos well
Beautifully polished for a show finish
High quality T3 turbocharger flange
Fully ported and polished design

(1) Front Mount Intercooler:

Large design cools down the turbocharged air efficiently
Strong TIG welds will support high PSI levels
Lightweight aluminum racing intercooler
Blank tabs create a easy bolt on design
2.5" in and out

(1) Universal Intercooler Piping Kit:

Lightweight yet strong aluminum piping
May necessitate light modification to fit
(16) stainless steel worm gear clamps
(2) 2.5" 90 degree silicone couplers
(6) 2.5" straight silicone couplers
(2) 90 degree 2.5" bends
(2) 60 degree 2.5" bends
(2) 45 degree 2.5" bends
(2) straight 2.5" pipes

(1) Boost Controller:

Can be setup to adjust boost PSI on the fly
Can be adjusted for any PSI level desired
Control your boost with a precise click
Includes complete install kit
Anodized aluminum finish
CNC machined design

(2) Blow Off Valves:

Protects the turbo by letting pressure surges vent when shifting and/or reducing throttle
Performance design produces a powerful and aggressive sound
Quality design will not leak under high boost conditions
Flanges can be installed at user discretion
Includes complete install kit

(1) Slim Cooling Fan:

Fan can be used to cool: A/C condenser, oil or transmission cooler, mounting on an intercooler to prevent heat soak, or cooling a a2w radiator
Slim design provides excellent engine bay clearance
Includes the mounting tabs for a easy zip tie install
Reversible design can either pull or push air
Versatility of a push/pull reversible fan
Superior flow of a curved-blade design
Creates additional aftermarket cooling
1.25" thick outside perimeter
2.50" thick inside perimeter

(1) Fuel Pressure Regulator:

Great to setup fuel pressure for boosted engines
Includes complete install kit
Precision pressure gauge
Fully adjustable

(1) Catch Can:

Stops excess oil from blowing to the intake manifold
Ensures better mileage & better performance
Removes oil vapors from breather line
Show like high quality polish
Includes complete install kit

(2) Heat Shield:

Strong stainless construction
Direct bolt on
Will fit other turbos with modification 
Reduce engine bay temps
Keep the heat in the turbo to make more power

(2) Breather Cap:

Extreme high flow

Keeps crankcase ventilation clean for emissions
Works in conjunction with the catch can to keep inside of turbo piping oil free

(1) Billet Aluminum High Flow Fuel Filter:

CNC machined T6-6061 billet aluminum construction
High flow capacity for demanding fuel systems
Strong brackets for easy mounting
High pressure fuel fittings
Anodized show like finish
Filter can be cleaned
6an sized fittings
Removable filter

(1) Radiator Hose Sleeving Kit

Protect from heat exposure

Protect hoses from ballooning out
Protects from other fluids


Fits the following vehicles with specified engine:

1982 – 1992 Chevy Camaro v8
1982 – 1992 Pontiac Trans Am v8
Chevy V8 small block engines (sbc) including 283ci, 305ci, 327ci, 350ci, and 400ci.
PayPal is the preferred method of payment
Items are shipped every other day with FedEx or USPS
Please make payment within one business week
After that period, a unpaid item dispute will be filed

Auction shipping rate applies to the lower 48 states in the USA
Please contact me for shipping rates to Canada, PR, GU, VI, P.O. Box, FPO, APO, HI, & AK
Shipping to the rest of the world will be assessed with USPS express shipping rates
Local pickup is not available on this package

Dedication to Customer Service

Your 100% satisfaction is my goal and I will stand behind all the products that are sold from Eworld
Eworld is not happy until the customer is 100% satisfied
Please make sure that the part you ordered fits before altering or final installation
Altered items and custom orders are not refundable or returnable
Please inspect the parts immediately after receiving your order for any problems acquired during shipping
A exchange can be made if you receive the wrong or broken part(s)
Seller shall not be liable for any consequential or contingent damages, expense, or injury arising directly or indirectly from any defect in its products or from the use of any products, defective or otherwise
Due to manufacture supply, colors/styles may be slightly different then pictured
By bidding on this auction the bidder agrees to all terms
---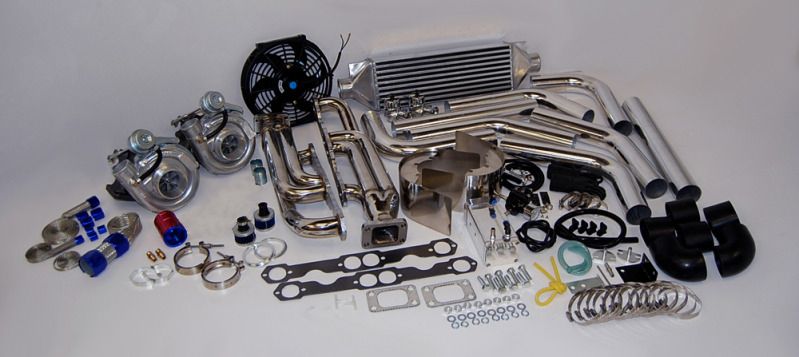 ---