LT1/LT4 L83 GEN 5 Twin Turbo Kit
2014- Current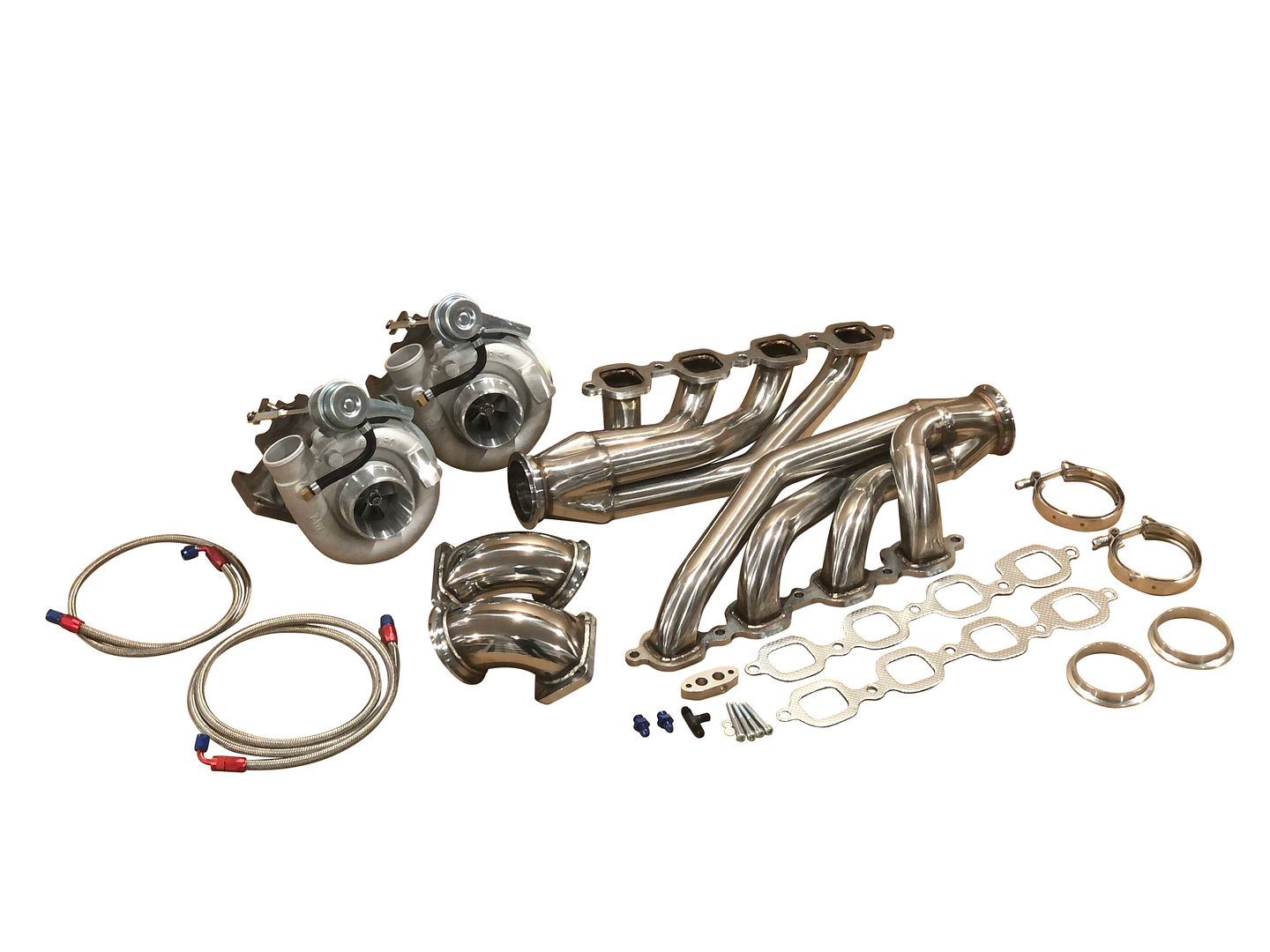 Brand new "street" twin turbo package for GEN 5 LT1/LT4 L83 engines. The most complete twin turbo package available. This package has all new quality parts that is capable of producing up to 1000 horsepower with supporting modifications. This is the best hot parts package available compared to others at an affordable price.

On a stock motor the kit will add amazing horsepower on a low boost setting of 8-10 PSI.

 
Packing List of Included Kit Items
[2x] Turbochargers
[2x] Stainless Steel Turbo Manifolds
[2x] Turbo Oiling Kits

.57 compressor wheel trim mapped for low & high boost setups
Oil fitting gaskets & mounting studs included
Capable of producing over 450 horsepower
wet float bearings & properly balanced
3" inlet diameter with a 2" outlet
.50 A/R compressor housing
.63 A/R turbine housing
1/8 NPT oil inlet
T3/T4 hybrid

High quality V-band adapters to T3 allowing for clocking turbo units

TIG welded 321 Stainless steel material for longevity and strength
High quality tubular piping with large 1 3/4" primaries
Extra thick flanges support the turbos well
Beautifully polished for a show finish
Fully ported and polished design
Stainless steel vband clamps


Necessary fittings and clamps for a complete installation
high temperature 550psi oil return line
Premium gaskets & hardware for the turbocharger
straight high strength oil feed line
Superior quality lasts a lifetime
Retails for $229 in magazines
High quality oil feed fittings
High quality turbo oil drain
Brand new turbo install kit



























[2x] Internal Wastegate Kits





Direct bolt on to included turbochargers
No need for confusing external setups
Easy v-band flange downpipe design
Pressure starts at 8psi
Flange and clamp included





[2x] T3-Vband Stainless Adapters






Stainless strong construction
High flow design
Mounts T3  flanged turbo to vband flanged turbo manifold
2 pieces are included

 















Payment and Shipping


 


Please inspect the parts immediately after receiving your order for any problems acquired during shipping
A exchange can be made if you receive the wrong or broken part(s)
Seller shall not be liable for any consequential or contingent damages, expense, or injury arising directly or indirectly from any defect in its products or from the use of any products, defective or otherwise
Returns are subject to a 20% restocking
Eworld can only ship to the verified Paypal address
By bidding on this auction the bidder agrees to all terms