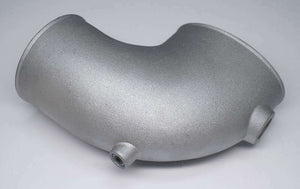 Compatible Vehicles
| Year | Make | Model | Trim | Engine |
| --- | --- | --- | --- | --- |
| 1997 | Chevrolet | Camaro | Base Convertible 2-Door | 3.8L 3800CC 231Cu. In. V6 GAS OHV Naturally Aspirated |
| 1997 | Chevrolet | Camaro | Base Coupe 2-Door | 3.8L 3800CC 231Cu. In. V6 GAS OHV Naturally Aspirated |
| 1997 | Chevrolet | Camaro | Lujo Coupe 2-Door | 3.8L 3800CC 231Cu. In. V6 GAS OHV Naturally Aspirated |
| 1997 | Chevrolet | Camaro | RS Convertible 2-Door | 3.8L 3800CC 231Cu. In. V6 GAS OHV Naturally Aspirated |
| 1997 | Chevrolet | Camaro | RS Coupe 2-Door | 3.8L 3800CC 231Cu. In. V6 GAS OHV Naturally Aspirated |
| 1997 | Chevrolet | Camaro | Z28 Convertible 2-Door | 5.7L 350Cu. In. V8 GAS OHV Naturally Aspirated |
| 1997 | Chevrolet | Camaro | Z28 Coupe 2-Door | 5.7L 350Cu. In. V8 GAS OHV Naturally Aspirated |
| 1997 | Pontiac | Firebird | Base Convertible 2-Door | 3.8L 3800CC 231Cu. In. V6 GAS OHV Naturally Aspirated |
| 1997 | Pontiac | Firebird | Base Coupe 2-Door | 3.8L 3800CC 231Cu. In. V6 GAS OHV Naturally Aspirated |
| 1997 | Pontiac | Firebird | Formula Convertible 2-Door | 5.7L 350Cu. In. V8 GAS OHV Naturally Aspirated |
| 1997 | Pontiac | Firebird | Formula Coupe 2-Door | 5.7L 350Cu. In. V8 GAS OHV Naturally Aspirated |
| 1997 | Pontiac | Firebird | Trans Am Convertible 2-Door | 5.7L 350Cu. In. V8 GAS OHV Naturally Aspirated |
| 1997 | Pontiac | Firebird | Trans Am Coupe 2-Door | 5.7L 350Cu. In. V8 GAS OHV Naturally Aspirated |
| 1996 | Chevrolet | Camaro | Base Convertible 2-Door | 3.8L 3800CC 231Cu. In. V6 GAS OHV Naturally Aspirated |
| 1996 | Chevrolet | Camaro | Base Coupe 2-Door | 3.8L 3800CC 231Cu. In. V6 GAS OHV Naturally Aspirated |
| 1996 | Chevrolet | Camaro | Lujo Coupe 2-Door | 3.8L 3800CC 231Cu. In. V6 GAS OHV Naturally Aspirated |
| 1996 | Chevrolet | Camaro | RS Convertible 2-Door | 3.8L 3800CC 231Cu. In. V6 GAS OHV Naturally Aspirated |
| 1996 | Chevrolet | Camaro | RS Coupe 2-Door | 3.8L 3800CC 231Cu. In. V6 GAS OHV Naturally Aspirated |
| 1996 | Chevrolet | Camaro | Z28 Convertible 2-Door | 5.7L 350Cu. In. V8 GAS OHV Naturally Aspirated |
| 1996 | Chevrolet | Camaro | Z28 Coupe 2-Door | 5.7L 350Cu. In. V8 GAS OHV Naturally Aspirated |
| 1996 | Chevrolet | Impala | SS Sedan 4-Door | 5.7L 350Cu. In. V8 GAS OHV Naturally Aspirated |
| 1996 | Pontiac | Firebird | Base Convertible 2-Door | 3.8L 3800CC 231Cu. In. V6 GAS OHV Naturally Aspirated |
| 1996 | Pontiac | Firebird | Base Coupe 2-Door | 3.8L 3800CC 231Cu. In. V6 GAS OHV Naturally Aspirated |
| 1996 | Pontiac | Firebird | Formula Convertible 2-Door | 5.7L 350Cu. In. V8 GAS OHV Naturally Aspirated |
| 1996 | Pontiac | Firebird | Formula Coupe 2-Door | 5.7L 350Cu. In. V8 GAS OHV Naturally Aspirated |
| 1996 | Pontiac | Firebird | Trans Am Convertible 2-Door | 5.7L 350Cu. In. V8 GAS OHV Naturally Aspirated |
| 1996 | Pontiac | Firebird | Trans Am Coupe 2-Door | 5.7L 350Cu. In. V8 GAS OHV Naturally Aspirated |
| 1995 | Chevrolet | Camaro | Base Convertible 2-Door | 3.4L 207Cu. In. V6 GAS OHV Naturally Aspirated |
| 1995 | Chevrolet | Camaro | Base Convertible 2-Door | 3.8L 3800CC 231Cu. In. V6 GAS OHV Naturally Aspirated |
| 1995 | Chevrolet | Camaro | Base Coupe 2-Door | 3.4L 207Cu. In. V6 GAS OHV Naturally Aspirated |
| 1995 | Chevrolet | Camaro | Base Coupe 2-Door | 3.8L 3800CC 231Cu. In. V6 GAS OHV Naturally Aspirated |
| 1995 | Chevrolet | Camaro | Z28 Convertible 2-Door | 5.7L 350Cu. In. V8 GAS OHV Naturally Aspirated |
| 1995 | Chevrolet | Camaro | Z28 Coupe 2-Door | 5.7L 350Cu. In. V8 GAS OHV Naturally Aspirated |
| 1995 | Chevrolet | Impala | SS Sedan 4-Door | 5.7L 350Cu. In. V8 GAS OHV Naturally Aspirated |
| 1995 | Pontiac | Firebird | Base Convertible 2-Door | 3.4L 207Cu. In. V6 GAS OHV Naturally Aspirated |
| 1995 | Pontiac | Firebird | Base Convertible 2-Door | 3.8L 3800CC 231Cu. In. V6 GAS OHV Naturally Aspirated |
| 1995 | Pontiac | Firebird | Base Coupe 2-Door | 3.4L 207Cu. In. V6 GAS OHV Naturally Aspirated |
| 1995 | Pontiac | Firebird | Base Coupe 2-Door | 3.8L 3800CC 231Cu. In. V6 GAS OHV Naturally Aspirated |
| 1995 | Pontiac | Firebird | Formula Convertible 2-Door | 5.7L 350Cu. In. V8 GAS OHV Naturally Aspirated |
| 1995 | Pontiac | Firebird | Formula Coupe 2-Door | 5.7L 350Cu. In. V8 GAS OHV Naturally Aspirated |
| 1995 | Pontiac | Firebird | Trans Am Convertible 2-Door | 5.7L 350Cu. In. V8 GAS OHV Naturally Aspirated |
| 1995 | Pontiac | Firebird | Trans Am Coupe 2-Door | 5.7L 350Cu. In. V8 GAS OHV Naturally Aspirated |
| 1994 | Chevrolet | Camaro | Base Convertible 2-Door | 3.4L 207Cu. In. V6 GAS OHV Naturally Aspirated |
| 1994 | Chevrolet | Camaro | Base Coupe 2-Door | 3.4L 207Cu. In. V6 GAS OHV Naturally Aspirated |
| 1994 | Chevrolet | Camaro | Z28 Convertible 2-Door | 5.7L 350Cu. In. V8 GAS OHV Naturally Aspirated |
| 1994 | Chevrolet | Camaro | Z28 Coupe 2-Door | 5.7L 350Cu. In. V8 GAS OHV Naturally Aspirated |
| 1994 | Chevrolet | Impala | SS Sedan 4-Door | 5.7L 350Cu. In. V8 GAS OHV Naturally Aspirated |
| 1993 | Chevrolet | Camaro | Base Convertible 2-Door | 3.4L 207Cu. In. V6 GAS OHV Naturally Aspirated |
| 1993 | Chevrolet | Camaro | Base Coupe 2-Door | 3.4L 207Cu. In. V6 GAS OHV Naturally Aspirated |
| 1993 | Chevrolet | Camaro | Indianapolis 500 Pace Car Coupe 2-Door | 5.7L 350Cu. In. V8 GAS OHV Naturally Aspirated |
| 1993 | Chevrolet | Camaro | Z28 Convertible 2-Door | 5.7L 350Cu. In. V8 GAS OHV Naturally Aspirated |
| 1993 | Chevrolet | Camaro | Z28 Coupe 2-Door | 5.7L 350Cu. In. V8 GAS OHV Naturally Aspirated |
Brand new cast aluminum intake elbow kit for the LT1 / LT4 F-Body Camaro / Trans Am.  Also fits 94-96 Imapla and Caprice.  Increase your throttle response and power.

Unlike any elbow on the market, this has a nitrous bung casted into the side of the elbow.  The plug is casted so the nitrous nozzle sprays perfectly to the center of the throttle body.

No nitrous yet?  No problem!  A plug is included. No hardware included, just the elbow.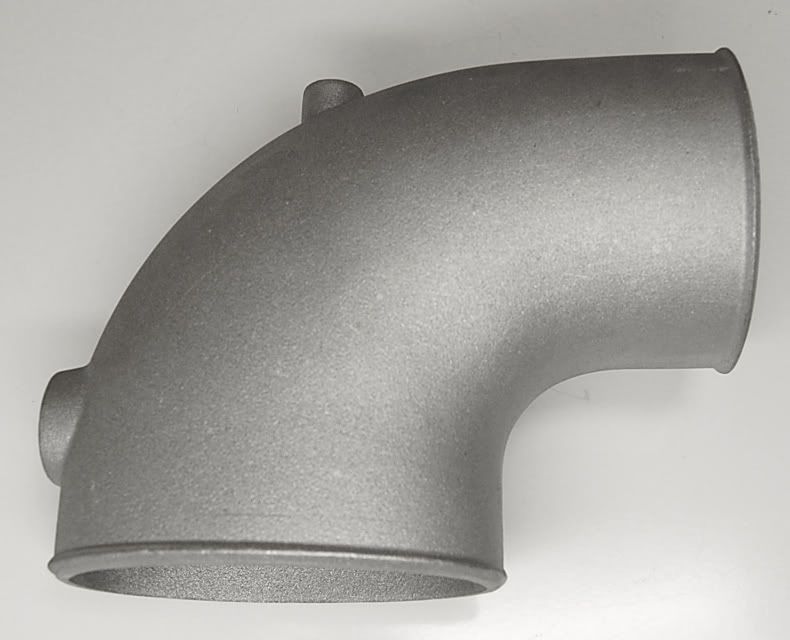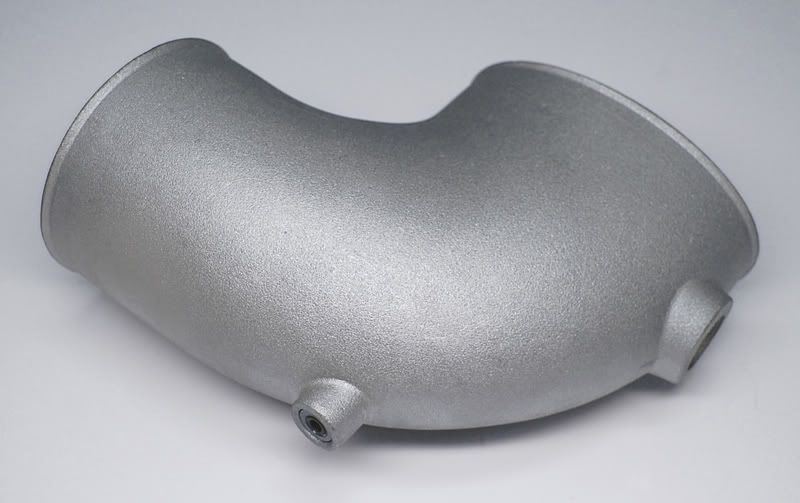 Thanks for looking!