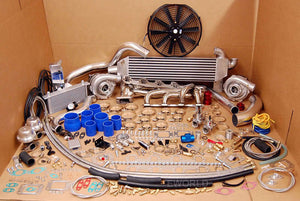 5.0 Ford Twin Turbo Kit
260  289  302  351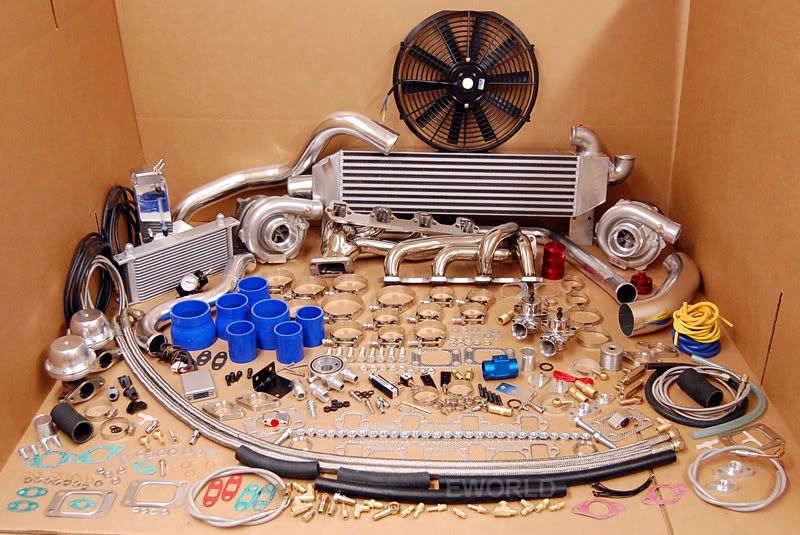 Brand new "street" twin turbo package for 5.0 Ford engines. The most complete twin turbo package available. This package has all new quality parts that is capable of producing well beyond 750 horsepower with supporting modifications. This is the most complete package available compared to others at an affordable price.  A proven design sold for years.

Includes a cooling solution for a hot turbocharged engine featuring a high flow-cooling fan and oil cooler kit. Also, the included electronic turbo timer provides a hassle-free operation of precisely calculating the cool down period to ensure a proper cool down for your turbocharged motor. On a stock motor the kit will add amazing horsepower on a low boost setting of 8-10 PSI.

 
Packing List of Included Kit Items
[2] Hybrid Turbochargers
[2] Stainless Steel Turbo Manifolds
Front Mount Intercooler

.57 compressor wheel trim mapped for low & high boost setups
Oil fitting gaskets & mounting studs included
Capable of producing over 450 horsepower
wet float bearings & properly balanced
3" inlet diameter with a 2" outlet
.50 A/R compressor housing
.63 A/R turbine housing
1/8 NPT oil inlet
T3/T4 hybrid

High quality gaskets included for turbo flanges and exhaust manifold flanges
TIG welded 321 Stainless steel material for longevity and strength
Support brackets welded on help support the weight of the turbo
High quality tubular piping with large 1 5/8" primaries
Full install kit includes all bolts and hardware
Extra thick flanges support the turbos well
Beautifully polished for a show finish
High quality T3 turbocharger flange
Fully ported and polished design

Large design cools down the turbocharged air efficiently
Strong TIG welds will support high PSI levels
Lightweight aluminum racing intercooler
Brackets create a easy bolt on design
3" cold outlet and 2.25" hot inlets

Manual Boost Controller Kit
Aluminum Intercooler Piping Kit
[2] Turbo Oiling Kits

Can be setup to adjust boost PSI on the fly
Can be adjusted for any PSI level desired
Control your boost with a precise click
Includes complete install kit
Anodized aluminum finish
CNC machined design

Lightweight yet strong aluminum piping
Direct bolt on
Mandrel bends
4Ply Silicone couplers
T bolt ss clamps

T fittings will fit almost any motor & still use factory oil pressure sending unit
Necessary fittings and clamps for a complete installation
18 inch 5/8" high temperature 550psi oil return line
Premium gaskets & hardware for the turbocharger
77 inch straight high strength oil feed line
Strong "T" fitting to hook up to block
Superior quality lasts a lifetime
Retails for $229 in magazines
High quality oil feed fittings
High quality turbo oil drain
Brand new turbo install kit
36 inch angle oil fee line

Oil Cooler Kit
Slimline Cooling Fan
Electronic Turbo Timer

If the engine already features a factory oil cooler, this oil kit can still be used together with the OEM cooler kit
Cooler core has 15 rows which is perfect for cooling hot engine oil(a cooler that is larger will not be efficient)
Plate features 1/8" NPT ports for oil pressure & temperate sensors for gauges or for turbo oil feed lines
Cooler can be mounted in direct airflow or hidden & it will still do its job of cooling
Oil Line fittings are machine crimped & checked to prevent leaks
Cooler features 4 strong brackets for a sturdy & easy installation
[2] Stainless steel lines feature aluminum racing swivel fittings
Bar & fin core design is very effective at cooling hot engine oil
7/8" Oil lines are fully reinforced with braided stainless steel
Oil lines resist engine bay heat & can support over 200 PSI
Oil lines are high quality & 4.4 ft. long each (52 inches)
Cooler measures 13" long x 5.5" wide x 2" thick
Cools hot engine oil by over 20 degrees
CNC milled billet aluminum oil plate
Oil filter adapter has 1.5mm threads
Oil cooler is lightweight aluminum

Fan can be used to cool: A/C condenser, oil or transmission cooler, mounting on an intercooler to prevent heat soak, or cooling a a2w radiator
Slim design provides excellent engine bay clearance
Includes the mounting tabs for a easy zip tie install
Reversible design can either pull or push air
Versatility of a push/pull reversible fan
Superior flow of a curved-blade design
Creates additional aftermarket cooling
1.25" thick outside perimeter
2.50" thick inside perimeter

Ensures a proper cool down for your turbocharged car every time
Includes pigtail wiring and extra wiring for ease of installation
Important to preventing premature turbo wear and failure
Mounted inside the vehicle for on the fly adjustments
Precisely calculates the cool down period for the motor
Auto mode feature creates a hassle-free operation
Increases turbocharger's operating lifespan
Bright Easy to read LED Digital Display
Failure to reduce the temperature of the turbo could result in "coking" of oil inside the turbo
Coking is the baking of oil, turning it into a grimy substance

Fuel Pressure Regulator Kit
[2] Internal Wastegate Kits
Oil Catch Can

Great to setup fuel pressure for boosted engines
Includes complete install kit
Precision pressure gauge
Fully adjustable

Direct bolt on to included turbochargers
No need for confusing external setups
Easy v-band flange downpipe design
Pressure starts at 8psi
Flange and clamp included

Stops excess oil from blowing to the intake manifold
Ensures better mileage & better performance
Removes oil vapors from breather line
Show like high quality polish
Includes complete install kit

[2] Blow Off Valve Kits
Billet Aluminum Fuel Filter
Coolant Sensor Bung

Protects the turbo by letting pressure surges vent when shifting and/or reducing throttle
Performance design produces a powerful and aggressive sound
Quality design will not leak under high boost conditions
Flanges can be installed at user discretion
Includes complete install kit

 

CNC machined T6-6061 billet aluminum construction
High flow capacity for demanding fuel systems
Strong brackets for easy mounting
High pressure fuel fittings
Anodized show like finish
Filter can be cleaned
6an sized fittings
Removable filter

Monitor the water temperature via this sensor relocator
Provides more precise readings then the stock location
Features 2 installation clamps for an easy add on
Easy solution to run aftermarket coolant sensor
38mm ends fits most OEM coolant hoses
Strong Aluminum construction
Payment and Shipping


 


Please inspect the parts immediately after receiving your order for any problems acquired during shipping
A exchange can be made if you receive the wrong or broken part(s)
Seller shall not be liable for any consequential or contingent damages, expense, or injury arising directly or indirectly from any defect in its products or from the use of any products, defective or otherwise
Returns are subject to a 20% restocking
Eworld can only ship to the verified Paypal address
By bidding on this auction the bidder agrees to all terms